$4 Million in Earned Media Value
South Dakota Governor's Office of Economic Development
South Dakota has a workforce shortage, prompting the Governor's Office of Economic Development (GOED) to launch a workforce recruitment campaign.
Before L&S and the GOED could create a campaign, we needed to know what job seekers thought of the state. We conducted one-on-one interviews across the region with South Dakota business leaders and people who had recently moved here. Participants were asked to describe what they thought their life would be like in South Dakota, along with questions about what factors were important in a relocation decision and what would convince them to even consider it.
Awards
ADDY Award: Silver, Film, Video & Sound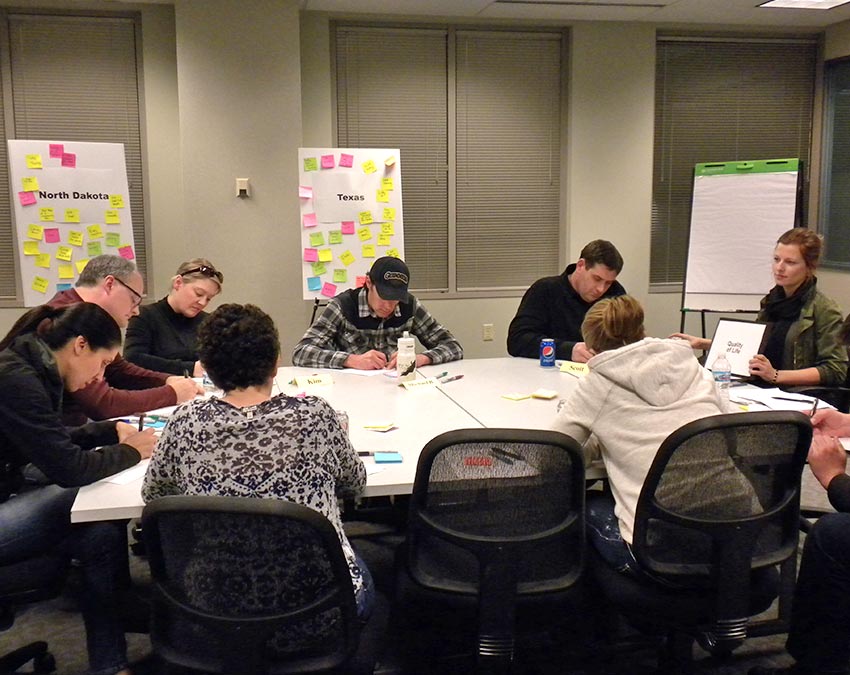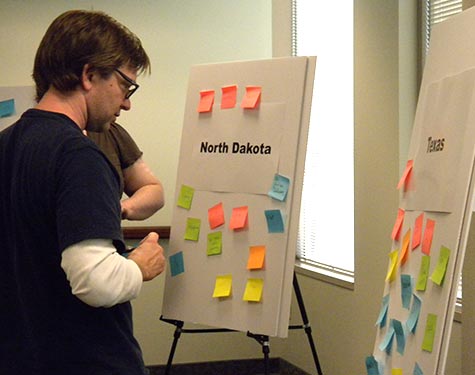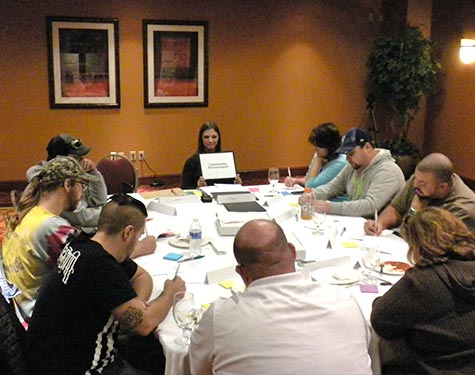 Once all of the research was compiled, it became very clear that South Dakota had more than an image problem—it had a NO image problem. No one talked about South Dakota beyond farming and Mount Rushmore National Memorial. We needed to showcase the state's opportunities and get people talking to keep South Dakota top of mind.
We developed a campaign with real transplanted South Dakotans featuring video content and a microsite that showed the state's lifestyle rankings, a wage calculator and job search capabilities. The goal of the campaign was to showcase South Dakota as a place where you don't just physically live but really live the life you want.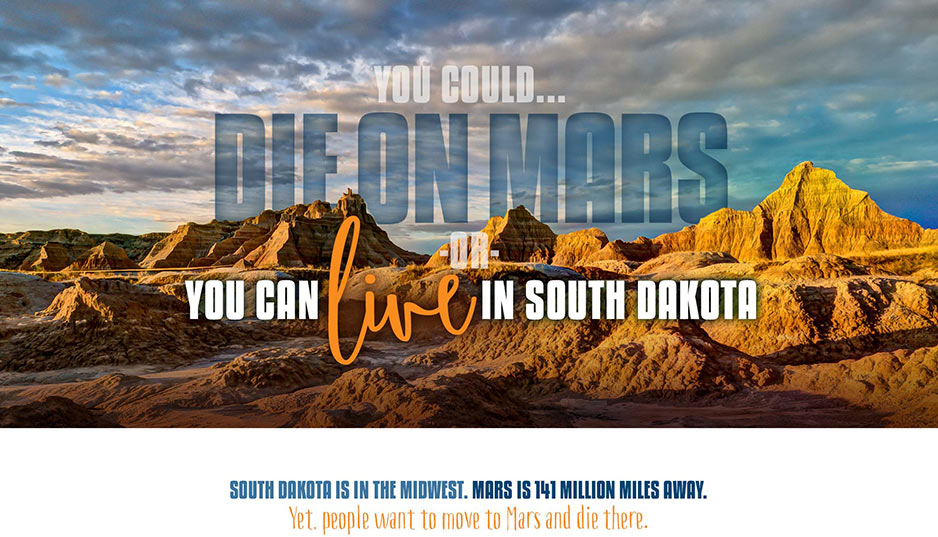 But that wasn't enough to get South Dakota on the radar. Prior to the launch of the campaign, the Mars One Project announced its top 100 finalists to be chosen to someday live on the planet Mars. Over 200,000 people applied for this one-way ticket to the Red Planet where they would most likely die in the first few hours. With people volunteering to die on Mars…couldn't we convince them to live – and thrive – in South Dakota?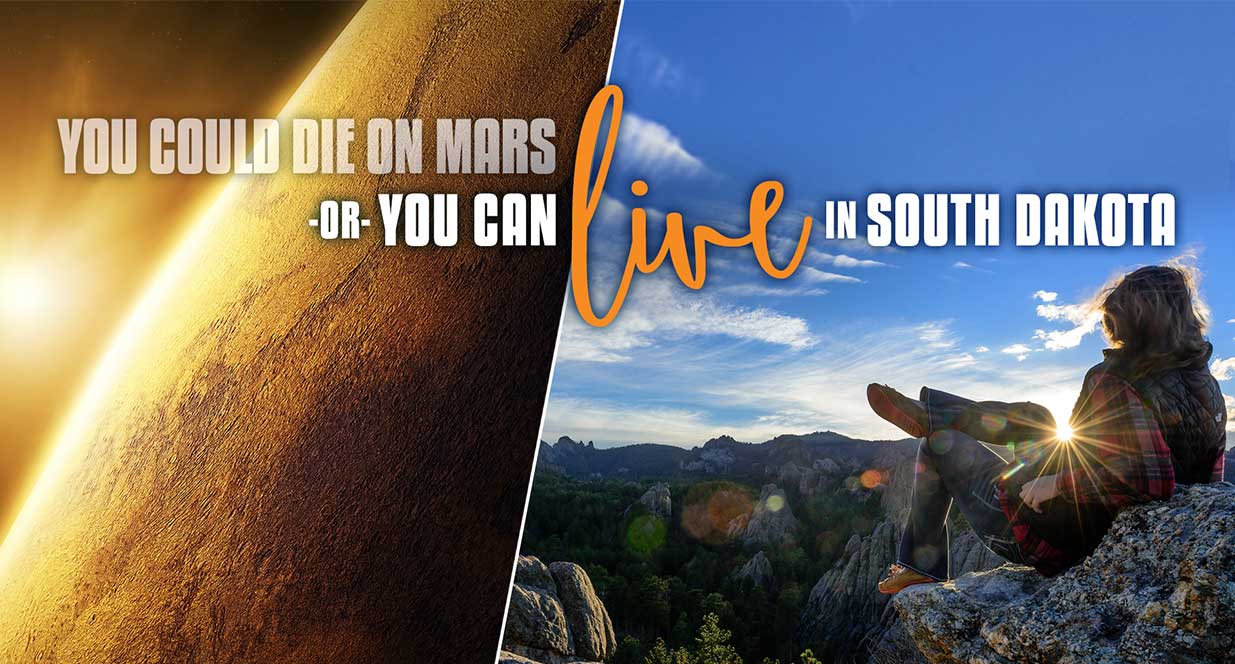 The campaign launched with a news story in a Sioux Falls newspaper, and from there the campaign blasted off beyond all expectations. Media outlets like CNN, Good Morning America, CBS, The NBC Today Show, The NBC Nightly News, Jimmy Fallon and others started talking about South Dakota being better than Mars.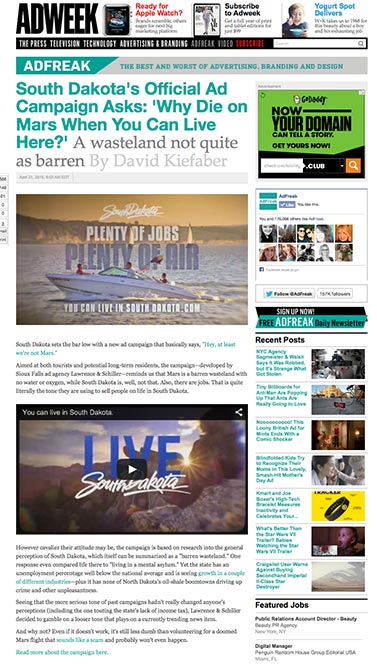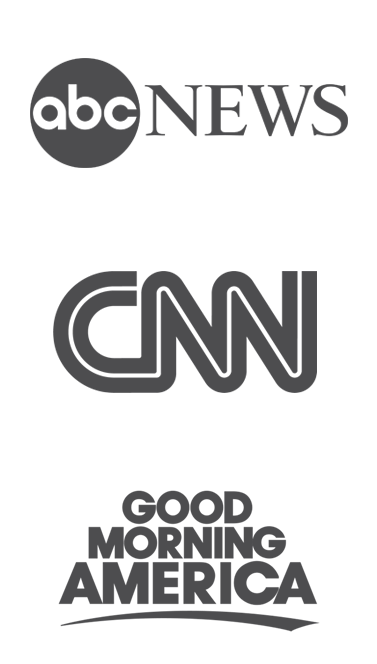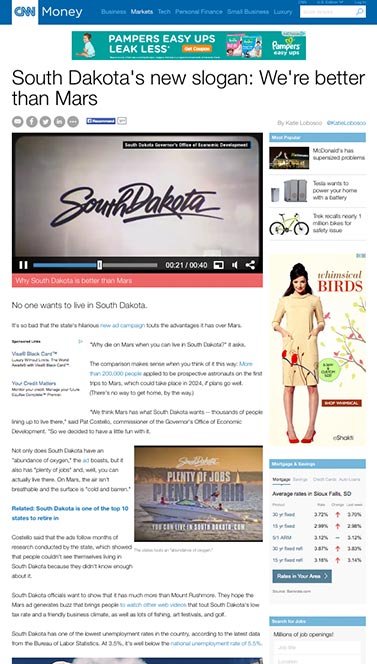 As a result, the campaign went viral and earned an estimated $1.3 million worth of earned media before a penny was spent on ad placement. After the paid efforts launched two weeks later, the campaign continued to earn $3.6 million in exposure in just the first month.
In the first five months of the campaign, the Mars video received nearly 150,000 views on YouTube. There were an estimated 336 total story mentions, reaching roughly 369 million people, which equates to an estimated ad value of $4,049,146, more than four times the total budget.
The campaign earned an estimated ad value of $4 million – more than four times the total budget.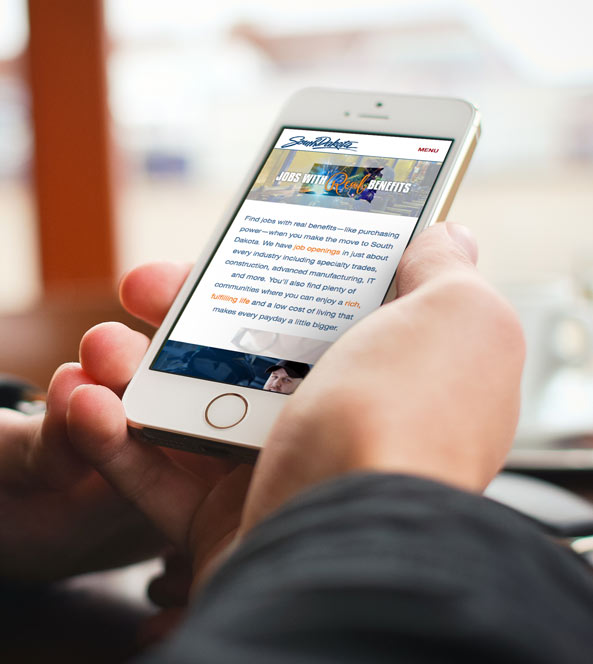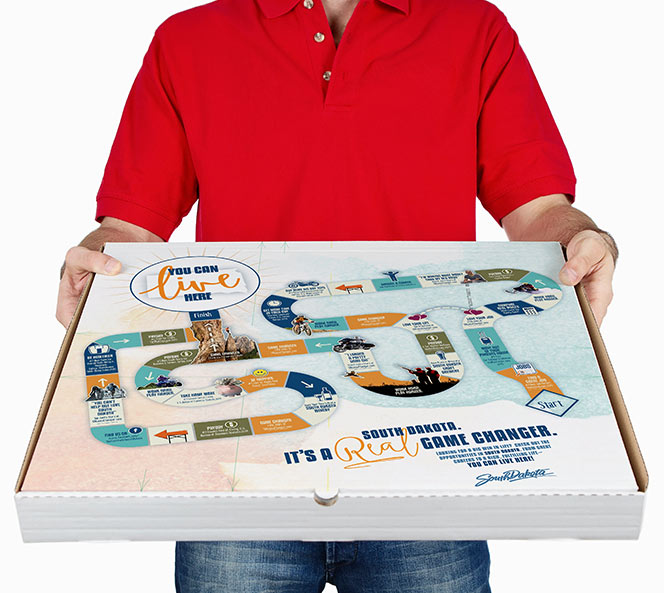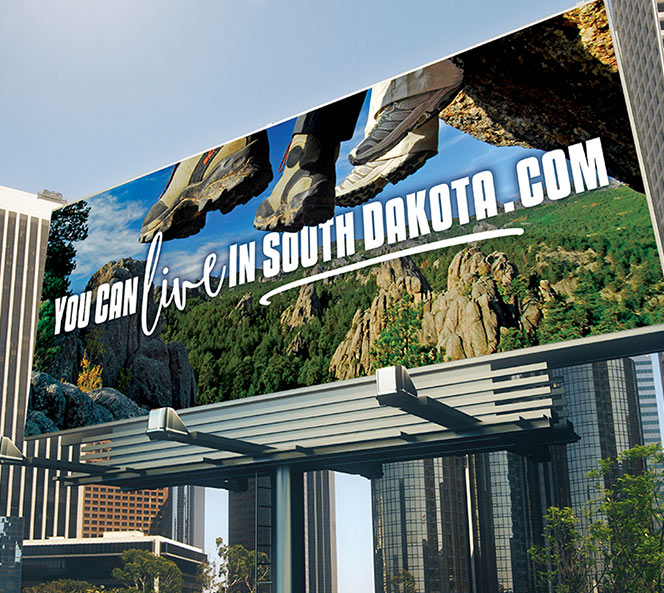 Like all good trending topics, the Mars One hype died down. But L&S and the GOED are continuing to keep people talking and keep South Dakota on the map.