it all began with a card table and some moxie…
And here we are, one of the region's most respected advertising and marketing agencies.
At Lawrence & Schiller, we're creative problem solvers, tackling everything from marketing and branding problems to business and strategy. Our team takes a smarter approach using insights, audience intel and more to develop all-encompassing, award-winning campaigns that drive growth.
Every day we strive to over-deliver when we might be underestimated. And because of that, we're fearless and future-focused, landing on more strategic solutions that buck trends and build leaders. L&S promises to outthink, outdo, outsmart, outperform – and ultimately drive outstanding results for clients to outpace the competition.
We don't still have that card table from our founding day in 1976. But rest assured, the moxie's all there.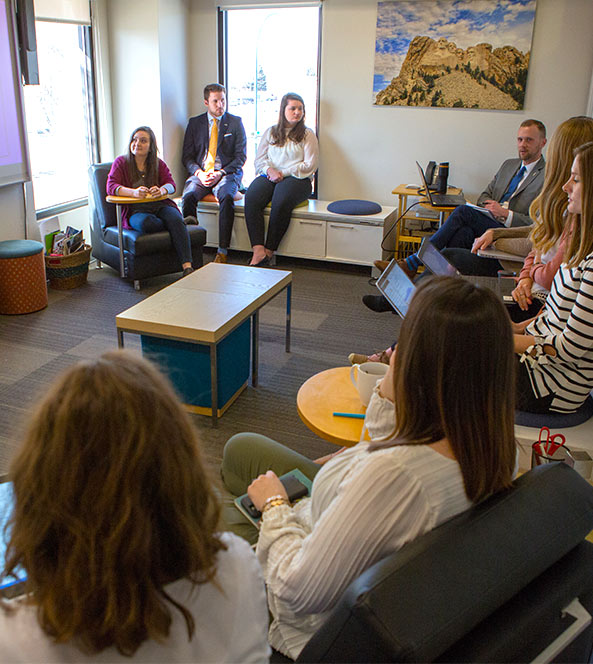 teamwork makes the dream work
Most agencies are broken into departments. But we aren't like most agencies. At L&S, we're structured into dedicated teams that function a lot like mini agencies.
Not only are teams a lot of fun, but they give our clients benefits, too. Each team specializes in specific categories, giving its members decades of industry insight to pull from. Plus, clients have a dedicated group of people around them every day, so it can feel like an extension of your internal team.
Teams let us work more nimbly, learn more deeply and collaborate more regularly. And at the end of the day, they help us forge relationships based on successful, strategic partnerships. Hands in, team.
industries of focus

We work with clients in all categories, from health and hospitality to gaming, professional services and telecom. But our experience really rises to the top in a few focus industries. Don't see yours? Contact us – we've got stacks on stacks of work samples to share from all areas of marketing.
tourism
L&S has worked with tourism entities, DMOs and hospitality partners for more than three decades. We know how to bring out the best in every destination, driving visitor spending, economic impact, occupancy rates, BID revenue and more.
restaurant
We not only like food - we know it. With clients like Taco John's International, our team has experience with QSR, fast casual, foodservice and other restaurant marketing categories to increase sales and transactions, average check and customer loyalty.
health & wellness
Healthcare is constantly evolving, from patient care and insurance to tech innovations. L&S evolves with it, working with health systems, clinics, medical device companies and wellness brands. We work to drive patient volumes, market share, satisfaction and brand recognition.
education
Our education marketing experts help institutions connect with and convert students. Beyond enrollment campaigns focused on yield, we've also assisted universities, colleges, scholarship funds and more with fundraising and awareness campaigns.
outthink. outdo. outreach.
giving importance to giving back
Why are we passionate about giving back? Because a business is about more than what's inside of its walls. It's about helping the community around it grow and thrive, too.
So we give our time and talents back through L&S Outreach, looking for ways to support causes with our clients. We focus on three main initiatives: arts and advertising, economic development, and the wellbeing of kids, families in crisis and people at risk where we live.
people drive our passion
Outreach doesn't happen without amazing people to fuel it. At L&S, we hold 130 volunteer positions, with 36% of our staff participating on boards and committees.
From acting as award judges to heading up committees and fundraising efforts, we're happy to help out and work with each employee so they can get involved.
volunteering efforts
Volunteering not only feels good – it's good for employees, helping them make new connections and develop skills. By volunteering together, our staff has opportunities to bond, build relationships and take a break from work to appreciate what's important.
We've been happy to volunteer with Habitat for Humanity, the Sioux Empire United Way, Volunteers of America and Feeding South Dakota. We also volunteer with professional and industry organizations including the South Dakota Advertising Federation and Young Professionals Network.
giving back through great work
One of our favorite ways to give back is with what we do best – awesome advertising. We partner with several non-profits to help with promotional efforts, development, fundraising and awareness.
From creating campaigns for the Sioux Empire United Way and South Dakota Advertising Federation to helping commission the USS South Dakota, we're proud to do great work for a great cause.
employee recognition
L&S Outreach also means celebrating our company and employees for all of their outstanding efforts.
Lawrence & Schiller was recognized in 2018 as a Best Place to Work by Prairie Business, and several staff members have been nominated and recognized by EmBe, Sales & Marketing Executives, Prairie Business and more. Cheers!