"What do you do all day?"
It's one of the most popular questions I get at job interviews and career fairs (and at my family holidays). Life at an ad agency is fast-paced and fun, but it can be tough to describe.
That's why I talked to a wide range of L&Sers across disciplines to ask about their typical day at the office. From a passionate team atmosphere to the lure of 2:30 popcorn, you'll get a sense of L&S culture and what drives people to outthink and outdo.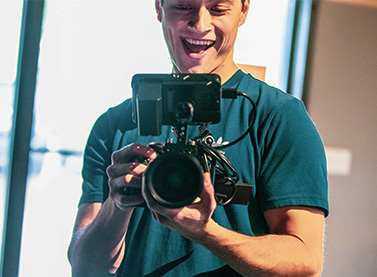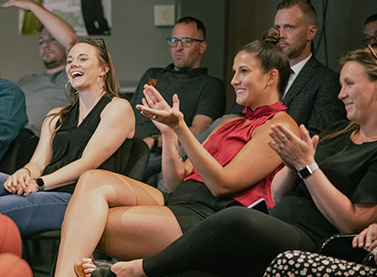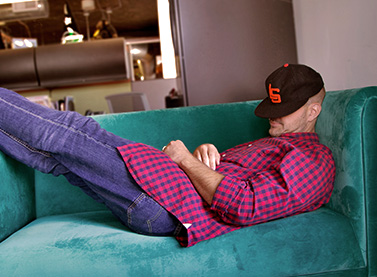 What's a typical day at the agency like?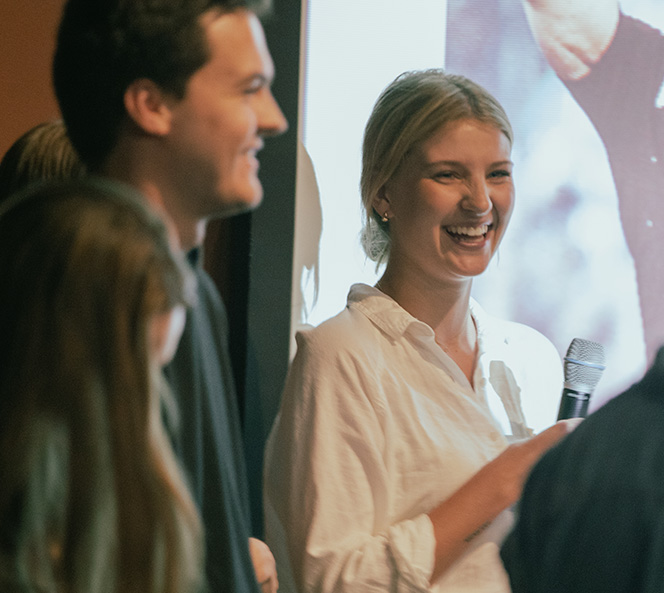 What's the best part of your day?
Emily Bye, Digital Coordinator: "Drinking my coffee in peace in the morning. It's just a little treat to get me going."
Luke Latza, Designer: "Lunchtime."
Sydney Wood, Digital Coordinator: "Every morning at 10:30, Travis and I have a 30-minute touchbase where we just fully unload everything we've done and need to get done that day. I just spin around in my chair and we have a little bunker chat."
Kyle: "The best part of my day is when I have the opportunity to jam on something creative, like a concept or fun headlines. The second-best part of my day is when I smell popcorn OR when someone says yes to an insane idea."
Katelyn: "I like mornings. It's quiet, you can get some solid groove time to get work in, everyone's in a good mood and no one's interrupting you."
Brian: "I think the best part is getting to see the team members come up with really cool ideas and seeing them happen in real time. Sometimes it's intense and you don't have time to think, but when it's finished you get to sit back and appreciate how all the chaos came together."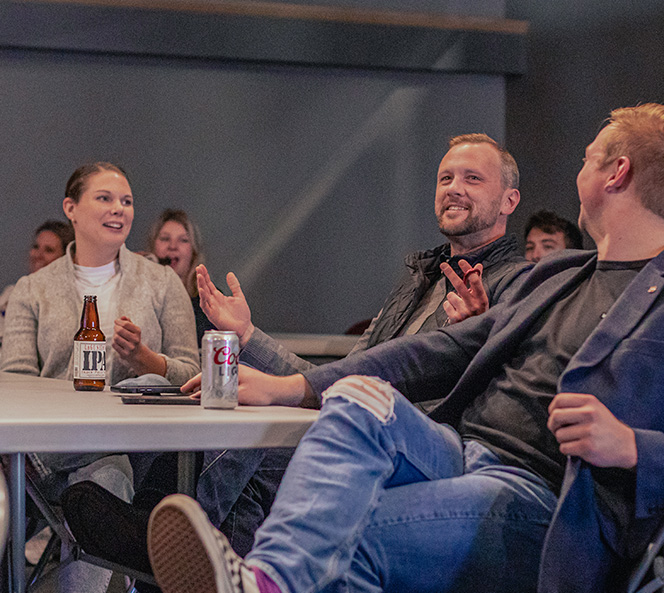 How about your least favorite part of the day? Be honest.
Jen Hegge, Digital Coordinator: "Entering my timecards! When little things come up that aren't on my calendar or in emails, they're easy to forget about. It makes timecards challenging."
Eric Masters, Media Coordinator: "My least favorite parts of the day are whenever it gets slow. Fortunately, this doesn't happen often at all!"
Carly: "The tasks I tend to put off the most are troubleshooting, like when something isn't working on a web page or an email isn't showing right. Basically, when things don't follow our process and cause a speed bump, and it's our job to figure out what went wrong."
Brian: "I'd say the worst part is 2:30 when you hit that slump, and you kind of need a pick me up. I just take a lap around the agency, see what other teams are up to and escape my cube. Plus, by that time, someone's usually making popcorn which helps."
Katelyn: "It's not a specific thing, but as a creative person the worst part of the day is if I'm not feeling creative or like I have to force it."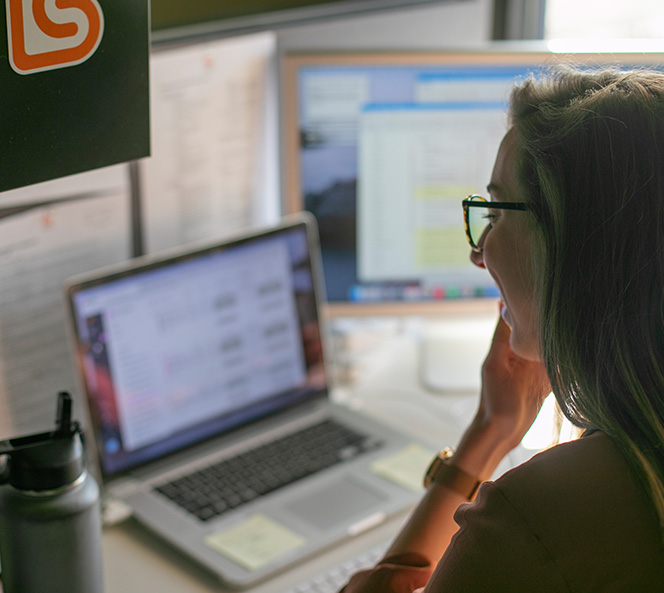 How much of your job is doing work alone vs. working with others?
Alexis Johnson, Media Strategist: "I would say it's 50/50 for media. When I'm working with people it's usually in brainstorms, meeting with the team or clients, reviewing work together or having media working sessions with the big group."
Brian: "It flip flops—sometimes 70/30 and other times 30/70. Because I work with almost everyone on the team and our clients, it feels like I'm in constant motion. But sometimes you just need those hours when you can crank out documents and work."
Katelyn: "Even when you think you're working alone, you're still working together bouncing ideas off each other, having someone look over your work or hearing Brian chime in over the cube wall. There's always input from a coworker at some point."
Carly: "Yes to all. 🙂 It depends on the project, though. Our website projects are very much a team thing, and as the facilitator of those we work with a lot of people to get things done. But when it's something like analytics, that's more on our own."
Matt: "Most CI projects have a mix of collaboration and independent work. For example, you may brainstorm to kick off a project, but later spend an entire morning working in a data file by yourself. I have always really liked that mix. It gives enough time to work together, while balancing time to think and actually work on projects."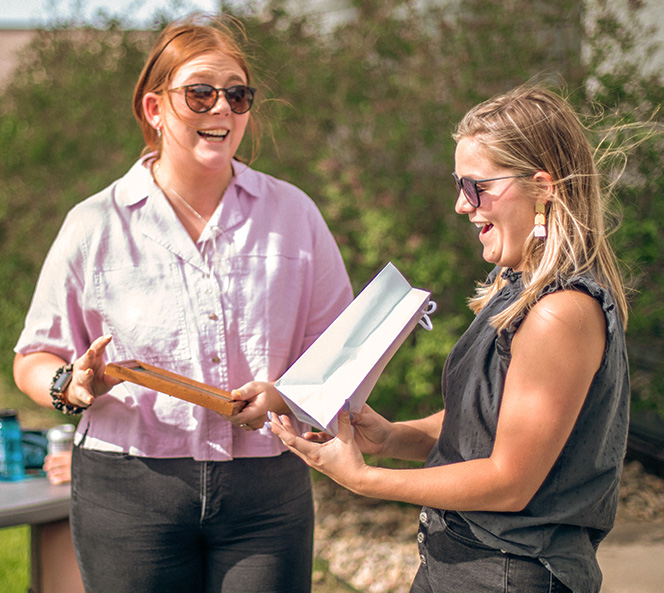 How would you describe the overall vibe at L&S?
Brian: "Sometimes I feel like I don't understand this word—am I too old? 🙂 L&S is kind of like the perfect mix between being super driven and intense but with that air of levity and fun that's constant. It's a ying-yang situation. If you can't have fun while you're working, then it's just work—it's not fulfilling. L&S has a balance between doing your best and having fun."
Sydney: "Determined, passionate and competitive in a good way. It's fun but at the same time it's productive."
Austyn: "It's flexible—flexible on having different workspaces to mix up your day, to being able to jump back and forth between different clients and types of projects."
Eric: "Everyone cares a lot about what they do. What makes L&S special is the fact that the team is more relaxed than one might think. Not relaxed in a complacent sense, but in a confident, 'Let's get after this project' sense."
Carly: "Collaborative, talkative and energetic. People are going to each other's desks a lot to talk, have open discussion and ask questions—which I think is a huge benefit of being in the office with your coworkers."
Luke: "It's kind of like a sports team. Sometimes you get new recruits or people get traded to other teams, but at the end of the day we all have the same goal and rely on each other like teammates."
We hope that gives you a glimpse into our typical day. But there's only so much we can fit into one blog. If you want a deeper dive into agency life and specific types of positions, contact us to get set up with a job shadow.
more blogs you might like