7 Ways to Effectively Convert Website Visitors to Consumers
By Guest Blogger, Erica Sunarjo
Spreading brand awareness and driving traffic to your website doesn't necessarily equal sales. After all, getting attention and actually getting a conversion are two important but different tasks. So, if you already have a decent number of visitors on your site, it's time to dedicate attention to task number two – converting visitors into customers.
Increasing the rate of sale demands thoughtful strategy derived from research and analysis. If you've already put your time and effort into creating a website, make your investment worth it by turning your site into a profitable business. Here are some useful and effective ways that will help you convert website visitors to customers.
1. SEGMENT THE SUBSCRIBERS
Do you know that famous saying "divide and conquer"? Well, that's exactly what you should do in your conversion process.
Personalization is an effective sales tool, and segmenting your subscribers can increase conversions.
Look at your email list and segment the audience based on their preferences and characteristics. For example, you can segment returning customers, newcomers, subscribers interested in discounts, subscribers interested in new products, etc.
Based on the list, you can send appropriate emails to them and, therefore, provide them with information they actually want that is more likely to convert.
Consider including questions on your website forms to help segment future subscribers and gauge their interests.
2. IMPROVE YOUR LANDING PAGE
You might be satisfied with your website's performance but that doesn't mean there's no room for improvement. A landing page is the first thing the website visitors see. That first impression can be crucial for further decisions such as whether they will purchase something or not.
Some actions you can take to turn your landing page into a conversion tool are:
Create attention-grabbing headlines
Display discounts or sales
Write engaging but brief copy
Include clear calls-to-action
Add attractive visuals
Put a lot of effort into creating an interesting and visually pleasing landing page that will invite your visitors to browse the website and explore the opportunities.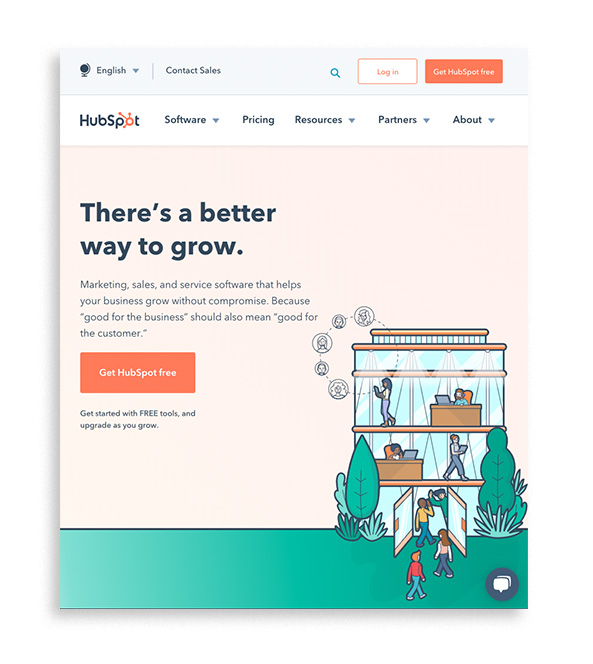 3. PROMOTE FREE TRIALS
Offering your website visitors a free run can get them to stay loyal to your product and your company. Once they get used to using your product and once it becomes an everyday part of their lives, there will be no going back.
For instance, Hubspot is a company that offers marketing software solutions to various businesses. They give customers a free 14-day trial period to experience the products and make a decision.
If trials are applicable to your products, give them a chance and see how the audience responds. A limited time offer can help drive urgency and trial, ultimately leading to sales.
4. MAKE THE WEBSITE MOBILE FRIENDLY
Did you know that only half of landing pages are optimized for mobile devices? This is a disappointing fact especially when you think about how many people use their phones to look for products. A mobile-friendly site isn't a luxury or add-on these days – it's a necessity.
If visitors come across your website on mobile but all they can see are chopped up pages and distorted images, they won't bother to stay on the site. And if they can't make sense of your site, they certainly won't purchase anything from it.
A responsive design will enable mobile users to enjoy your website fully and boost your conversion rate.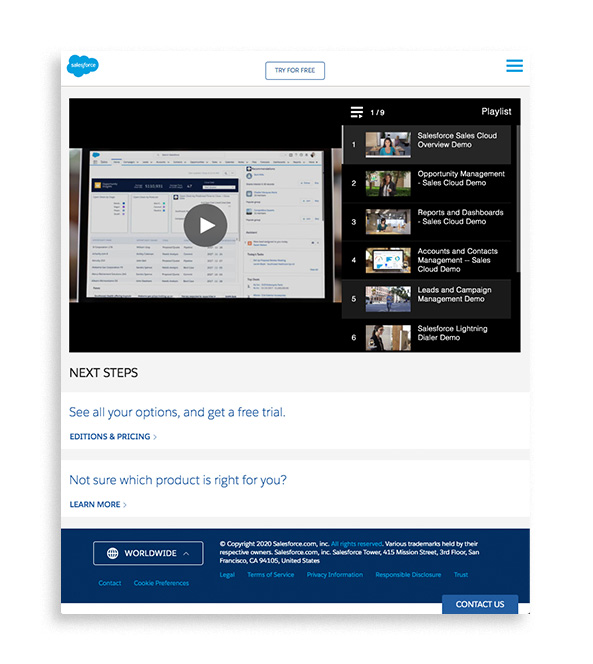 5. USE VIDEOS
Visuals are a great way to engage the audience and keep their attention.
Take into consideration that using videos on landing pages can improve conversions by 86%. That isn't a percentage you want to disregard.
You can add an introductory video to your landing page that will evoke trust in your customers and make them more comfortable with purchasing your products.
Besides that, you can add product tutorials that will allow visitors to get to know your product and realize its benefits.
SalesForce provides its website visitors with lots of useful clips from the moment they come onto their website.
In this way, they are ensured that the visitors will have a complete understanding of what they have to offer.
6. WRITE HIGH-QUALITY BLOG POSTS
Providing your audience with useful, relevant and informative content will increase your chances for conversion. But how?
Blogging can play a huge role in your content marketing. If you already have a blog, make sure the content you post gives your audience an insight into something relevant to them and connected to your business. This will allow you to add a call-to-action in the end and invite the readers to check out your product.
Let's say that you have an e-commerce store that sells skincare products. Writing an article about how to deal with dry skin problems will give useful information to readers, and you'll have a chance to mention your daytime cream for dry skin in a way that's natural and organic.
7. DISPLAY TESTIMONIALS
Testimonials have a high value in potential customers' eyes. Just take a look at the following statistics:
Showing testimonials of satisfied customers can build your credibility and encourage customers to continue with the purchase.
You can display them attractively and noticeably. Take a look at how PageCloud did it: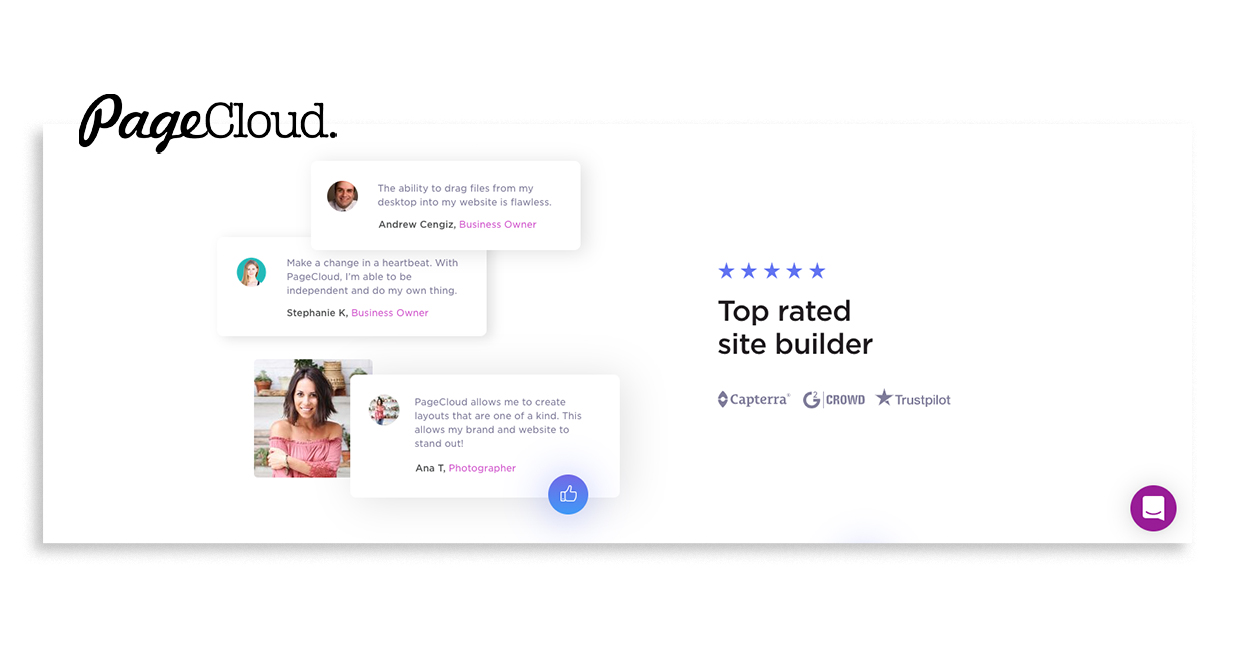 These testimonials are placed on their landing page so website visitors will come across it quickly.
Now that you know these tips and tricks for increasing your web conversion rate, it's time to get to business and form your strategy. Don't forget that persistence and patience are a must when it comes to achieving your goal.
It's important to look back and keep track of each step you make so you can make improvements and push the tactics that work best for your audience. Remember that every business is unique and the only way you can succeed is by adapting your strategy to your target customers.
________________________
Erica Sunarjo is a professional writer, translator and editor with a Master's degree in Marketing and Social Media. She writes thought-provoking articles for publications in a variety of media and is an active member of The Word Point translator community.
more blogs you might like