Student Day Headshots
A good introduction can go a long way. You can find your Student Day headshots in the link below. And while you're here, wander a bit and take some time to learn more about our summer internship, Ad Camp. 🥾🏕️🪵

Calling All Campers
At Ad Camp, skills are sharpened, memories are made and friendships are born. It's one outdoorsy internship (metaphorically speaking, of course). Save the date, applications open on December 11, 2023. Check out our content below to learn the whole story of Ad Camp.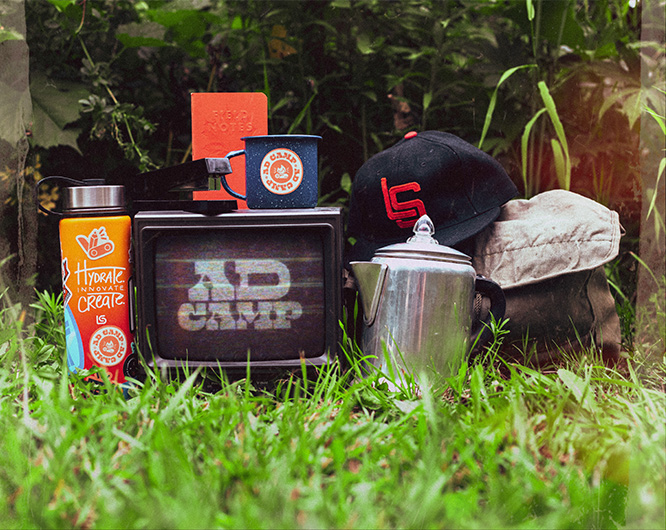 CAMP SCHEDULE

December 11: Applications Open
January 21: Applications Close
February 1: Meet Greet Repeat Interviews
Late February: Internship Offers Extended
May: Ad Camp Begins
FREQUENTLY ASKED QUESTIONS

WHAT KIND OF INTERNSHIP POSITIONS ARE OPEN? HOW MANY INTERNS DO YOU HIRE?
Great question – it's different every year. We're open to hiring interns in every agency position depending on how awesome they are. Some years that's meant 3-4 interns, and others as many as 8. If you're a rock star, we'll find a place for you.
IS IT A VIRTUAL OR IN-PERSON INTERNSHIP?
The internship is in-person so you get the benefit of learning the most from your L&S mentors.
IS THIS A PAID INTERNSHIP?
Yes, interns receive an hourly wage of $16.00 an hour, 40 hours a week, in addition to other fun perks like bags tournaments, our company picnic, the L&S golf tournament and occasional breakroom treats.
DO I NEED TO ATTEND MEET GREET REPEAT TO GET AN INTERNSHIP?
If you're not able to attend Meet Greet Repeat, we understand — attendance is not required to be considered for an internship. However, know that your chances of getting hired go up if you show up. Meet Greet Repeat is an awesome opportunity to practice your interview skills and make an impression beyond what's on your resume or portfolio. Keep in mind: if you can't come for interviews, you can always just drop in for the 4pm social. 
WOULD THIS INTERNSHIP FILL A CLASS REQUIREMENT/QUALIFY AS A CLASS CREDIT?
Yes, it does. As an Ad Camper, you'll get paid while earning class credit and learning more than you thought was possible.
HOW DO I KNOW WHAT POSITION IS RIGHT FOR ME?
An L&S internship is designed to give you a little taste of everything, but we want to pair you up with a position that fits your strengths. Add these to your to-do list if you need help deciding:
Tune into our Campfire Stories podcast for a look at each position and Q&A with someone in that discipline.
Watch our series of virtual internship lessons with deeper dives and exercises for each area. We offer these lessons free to anyone and everyone, year-round.
Check out a few articles from interns past and present on our blog.
We love a one-sheet. Download our FAQ sheet to have your Ad Camp answers within reach.
WHAT'S INCLUDED IN YOUR BUNK
At Ad Camp, you get more than an internship. You become a full-fledged member of the L&S team, plus the perks that come along with it.
Competitive pay – $16/hour
Tech package with laptop, workstation and tools
Free summer membership to Revolution Yoga & Cycle
Free soda, coffee, popcorn and snacks galore
this one time at ad camp
To help future campers navigate an L&S internship, past campers left lots of breadcrumbs. Check out their camp journals for a day in the life.
Shawn Kuhnel | Broadcast & Copywriting Intern
June 4th, 2022 | Anything goes when you're on team STEVE. It can be the calmest day in the office when you get the call to go on a shoot or something needs to be covered ASAP. That's what happened on this particular day, we received a call from a political candidate that needed three brand new TV spots produced and ready to air before the primary. We coordinated and shot the spots the next morning, making sure to capture everything that fit our client's vision, and brought back the footage for editing. I hadn't really noticed how fast it came together until that night. I was at happy hour with some friends, and I saw our spot air on one of the TV's. It was really fulfilling to see the outcome of what such a fast-paced day had been.
Kjerstin Aspaas | Graphic Design Intern
May 31, 2022 | I just finished one of the first projects I was assigned which was designing social media posts for the South Dakota Office of Highway Safety. I was provided copy and visual ideas from one of our copywriters, Matt - and I was a little intimidated and caught off-guard to say the least. For one of the posts my directions simply stated, "this might sound stupid but can we photoshop animal heads on motorcyclists?" And another prompted me to recreate the Thor: Love and Thunder movie poster with the iconic Reaper. After asking for a bit more explanation, I embraced the unique creative direction and dove into the designs! These posts were a nice assignment for me to hone my Photoshop skills and have fun while doing so. The final movie poster post, now titled "Drive: Slow and Steady," was then chosen to be turned into a full-page magazine ad. It was awesome to see my work printed and in the wild for the world to see!
Emily Erck | Digital Intern
June 30, 2022 | When I first got hired to be a digital intern at an advertising agency, the last thing I thought I would be doing is playing in a competitive bean bag (or cornhole, as some people here insist on calling it) tournament on a Thursday afternoon. However, that is exactly what my day consisted of. The FUN committee had planned the event a few weeks ago and sent out an email with instructions to find a partner to pair up with. Team names were created, beverages were bought, and the weather, surprisingly, cooperated. Shawn and I lost in our first round of play today which sucked, but in our defense, the boards we were using did not help the situation. Although we lost in the first round, it was fun chatting with coworkers that had the same unfortunate end or cheer on those who were a bit more skilled. And by a bit more, I mean a lot more skilled.
Mallory Spivey | Account Service Intern
June 1, 2022 | I'm on team Atomic this summer and every year our team does a campaign for the Sioux Empire United Way. This is my second week at L&S and today I got to help at the United Way video shoot where we interviewed people who benefited from different nonprofits in Sioux Falls that United Way helps fund. My favorite part was visiting the St. Francis House, an ecumenical ministry that moves people from homelessness to hope by providing housing, food and services to them. We interviewed a woman whose life was changed by the St. Francis House and her story was inspiring. I think it's awesome that L&S gets to promote an organization that makes such a positive impact in our own community and that I got to be part of it!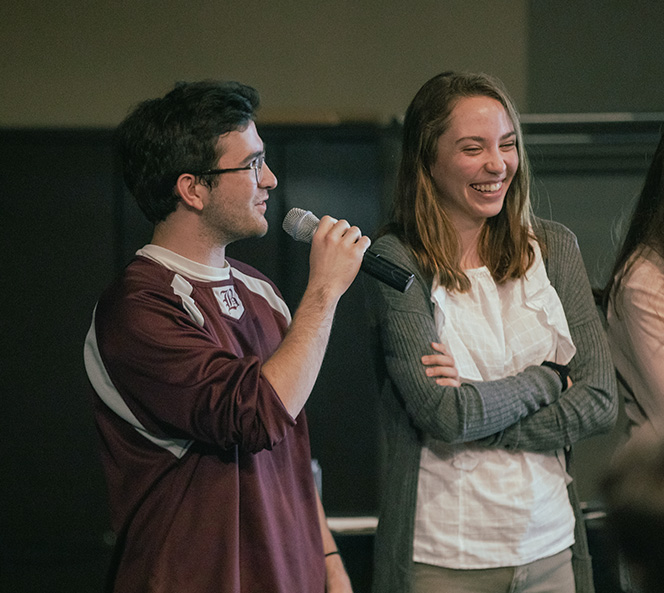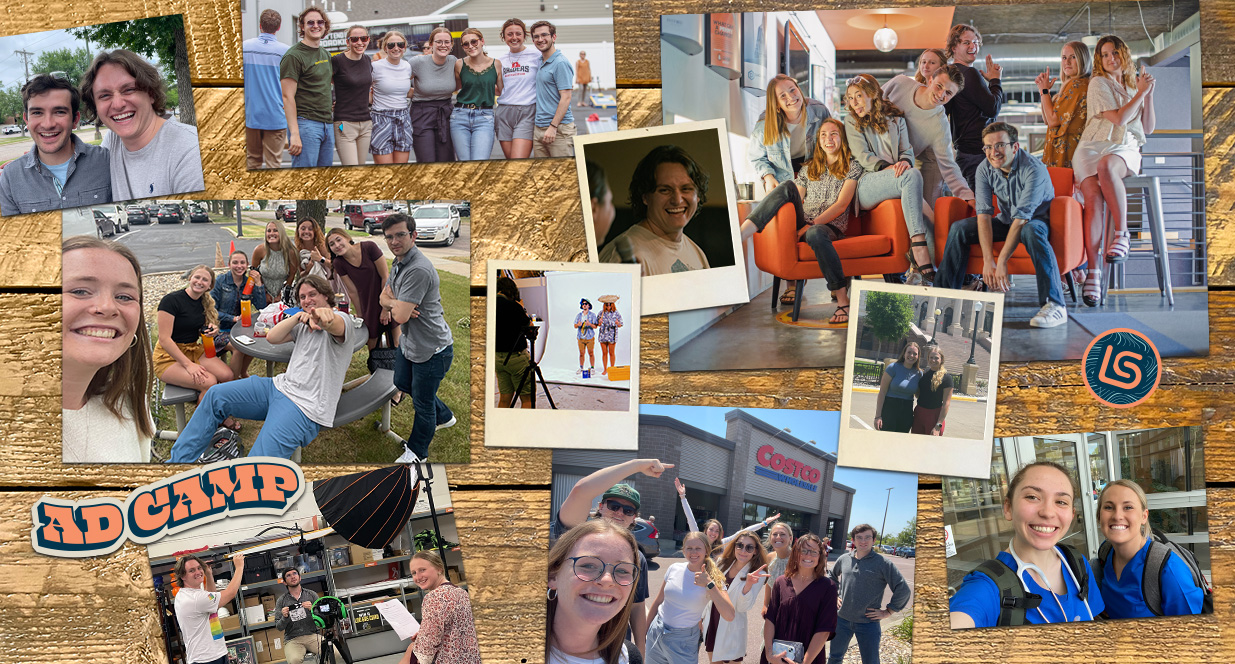 Kendal Schreier | Graphic Design Intern
June 21, 2022 | Within the short time I have been at L&S, I have learned so much about the creative process. Today, I was given the opportunity of a lifetime to accompany a photoshoot. Bizarre as it was to photograph shrimp, it was the most memorable project I've ever done. This morning, we grabbed last minute supplies, adjusted cameras, and lighting. I was nervous to meet the clients, but they were excited to spend a full day with us. Along with them, they brought a cooler full of frozen shrimp. I have never seen so much shrimp in my life… The day flew by quickly as we did several different takes and had lunch. We did not eat the shrimp. I loved working with my hands and moving around. I even had the opportunity to setup some of the takes myself encouraged by Wade and Scott.
Carrie Abeling | Media Intern
Monday, June 27th | If you had told me a month ago that clearing invoices could be fun, I definitely would have laughed at you. Now, I'm doing exactly that, with a team of really awesome people. I've been working this summer as a media intern at L&S. Last week, they trained me on how to clear invoices – cuz you gotta make sure all the bills are paid! This week, the whole team has been spending their afternoons together working on clearing invoices – we call it a 'discrep party'. It sounds awful – just clearing invoices – but really, it's been fun. The whole media team hangs out in the production center, get snacks, drinks, listen to music, and just vibes out together while clearing invoices. No matter what the task is, the people at L&S find little ways to make things fun and to work together as a team to get it done.
Emily Bye | Digital Intern
July 20, 2022 | Today, I am doing the finishing touchups for the Heartland Energy website redesign. Working on this project for the last couple weeks has been an amazing opportunity for learning and growth. L&S gave me the responsibility of leading the Heartland website through page building, content entry, website testing and making necessary updates throughout the process. I was also working on other projects during this time, so my time management and organizational skills were tested to say the least. With efforts from L&S designers, copy writers and digital team, we saw Heartland's website come together! The website redesign was a very fulfilling and rewarding project to be a part of because I was able to collaborate with my team to create an awesome website.
Erika Bute | Account Service Intern
June 9, 2022 | Today I had the opportunity to attend the Sanford/Hy-Vee Legends for kids banquet with a few other L&S staff members. I sit on team Space and one of our clients is Sanford. L&S sponsored the event and helped coordinate some things for it. It was cool to see L&S's work first-hand and how it contributed to an event that impacted so many kids. I also had a lot of fun getting to know other L&Sers outside of the office. An added bonus was that there was free food and drinks. Even though it is only my first couple of weeks of working at L&S, this event has really convinced me that I am going to enjoy being a part of L&S for the summer!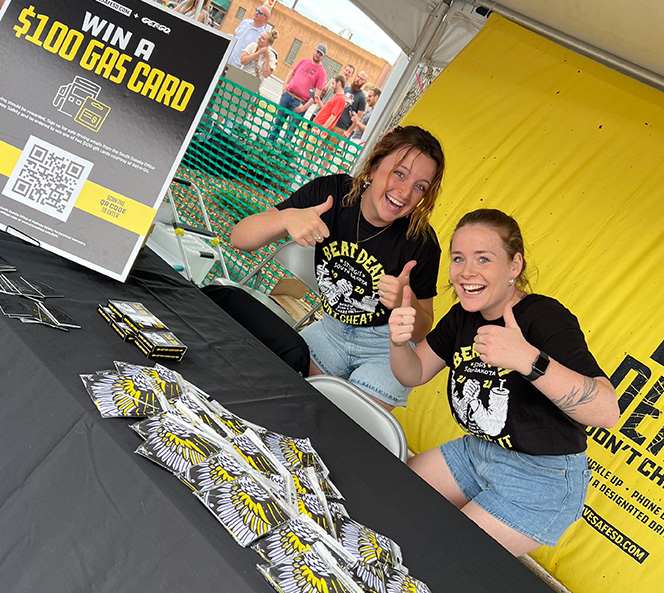 Do You Want Some Emails From Us?
Drop us your @ and we'll send Ad Camp updates and general marketing information. If you're into that sort of thing.

what to pack
Preparation is key, folks — every great trip starts with a good list. Check out our blogs, podcasts, videos and more to help you on the path toward Ad Camp. Oh, and don't forget your toothbrush.