I Went to the Black Hills and Ate a Burger for Every Meal
By Matt Sebert
Tourism
06.12.19
4 Min Read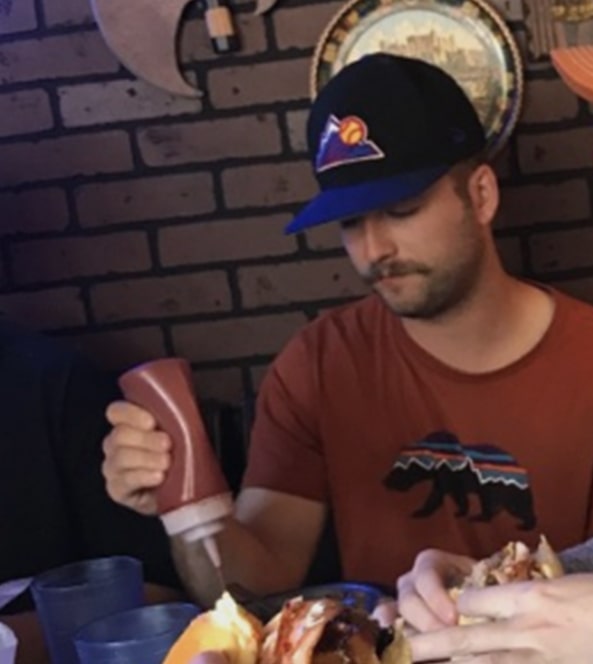 No good story ever started with a salad. My Black Hills Supersize Me adventure began with a burger. Which led to another, and another, and another, and another, and another and another. Nay, I did not go on this binge for pleasure, glory or accolades, but something even greater: blog content.
The mission: eat a burger for every single meal on my South Dakota Tourism Familiarization Tour, which is a week-long exploration into the Rushmore State's biggest attractions, hidden gems and everything in between.¹ Below is my four-day spirit quest through more beef than I care to remember across eight meals I will never forget—no matter how hard my waistline tries. If you are a vegan, avert your eyes.
The Rules
Every meal I eat has to be a burger. I can choose my sides as I wish but the entrée remains.²
No snacking (to keep my patty palate clean).
Every burger must be consumed in one sitting.
All meals must be graded with a double-serving of journalistic integrity.
Let's begin.
8. DAIRY QUEEN—1/3 LB DOUBLE CHEESEBURGER—HOT SPRINGS
This is the only fast food burger to appear on the list (time-crunch). I'm not going to detail this culinary experience, because everyone has been to DQ.³ I will add, one of the employees at said restaurant had a customized Iscream license plate, so you know there's serious passion put into the burgers and blizzards of Hot Springs.
7. KOL—BRETT's KOL-FRIEND BURGER—RAPID CITY
My last meal of the trip, this little taster came fresh-off Kol's coal stove in downtown Rapid City. Their open-kitchen antics are neat to watch, especially if you are sipping on a cucumber Moscow Mule as you do it. Author's note: I ordered a side of quinoa salad as a laughable attempt to ingest vegetables on this trip.
6. CARVERS' MARKETPLACE—1/2 LB DAKOTA BISON BURGER—MOUNT RUSHMORE NATIONAL PARK
Carver's Marketplace's website sells their café-style eatery as the "Best and Only dining experience at Mount Rushmore," which I cannot deny⁴. One thing arguably more important than the taste of their nosh is how they make it—with locally-sourced, sustainable ingredients.⁵ Additional note: eating a burger in the shadow of Mount Rushmore is a top three patriotic experience (behind playing catch with your dad and 4th of July BBQs).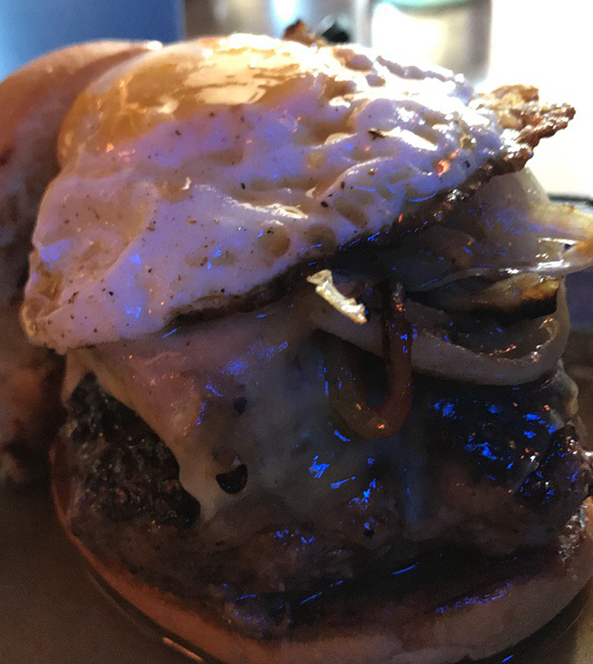 5. SLED HAUS—THE COUNTRY—LEAD⁶
This chaos patty is anarchy on a platter. Ingredients: home fries, swiss cheese, grilled onions, half-pound beef patty, runny egg (nature's gravy) and regular gravy. I didn't know whether to take a bite of it or a bath in it. The Brawny Man himself couldn't bring me enough paper towels. After I ate The Country, I washed my hands—but I felt like I needed a hot shower and trip to confession. It's great if you prefer collecting over counting calories and consider table manners optional.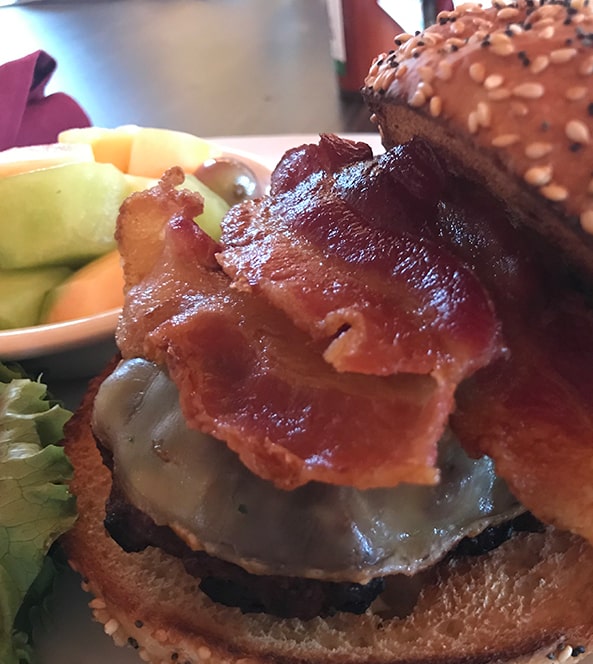 4. SYLVAN LAKE LODGE—SMOKED GOUDA BACON BURGER—CUSTER STATE PARK
Custer State Park is crazy because you can admire bison on the plains and your plate within a span of thirty minutes.
3. KILLIAN'S—PICO AVOCADO BURGER—SPEARFISH
Eating an avocado burger with a craft beer in Spearfish is the most millennial thing you can do besides podcasting.⁷ To borrow a line from Chance the Rapper, this dish makes your mouth "do the salsa like pico de gallo." The only negative comment I can muster on this meal is that the gargantuan patty was hard for one man to handle. Which also might be the best thing you can say about a burger—it's the age-old carnivore's conundrum. I 9.5/10 recommend.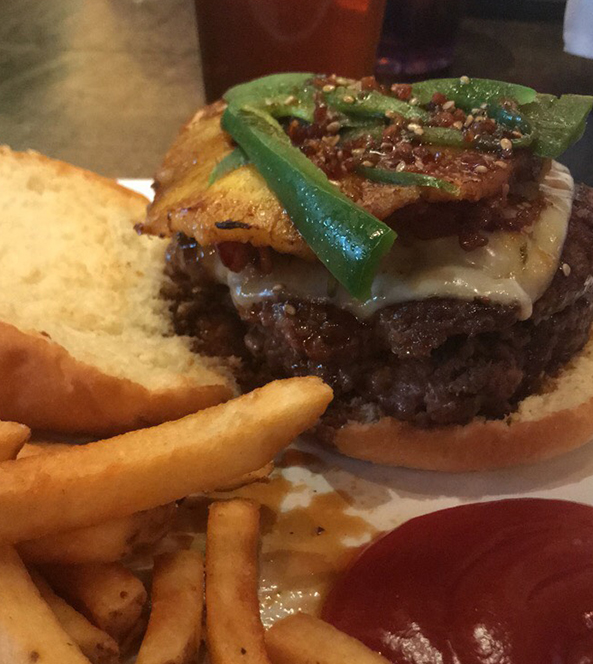 2. BLACK HILLS BURGER & BUN—THE HAWAIIAN—CUSTER
Heathens who don't put pineapple on their pizzas and burgers may not like The Hawaiian. We who live in the light should not shame these non-believers, rather pity them. I rode the wave of Pepper Jack cheese, grilled pineapple, jalapenos, bacon and teriyaki to a beach on Bliss Island. If that description sounds extravagant, good, because so is The Hawaiian.
1. THE KNUCKLE SALOON—THE MURTHA—STURGIS
The best burger I had was also the first. Causation? Correlation? Coincidence? DESTINY?? I don't pretend to know which. I do know when the response to your order at a biker bar is "Hell yeah, good choice brother," your order was a good one.⁹
The Murtha is a "1/2 lb burger topped with Murtha's jalapeno jelly, cream cheese and fried onion tanglers." The cream cheese tucks your taste buds into bed just for the jalapeno jelly to wake them up with a fog horn. Featured on publications of repute like the Travel Channel and this blog, The Murtha is the creation of head chef Austin Murtha (the only man in the world to know the recipe) and the world is better for it.
¹ Our group included advertisers of various titles and agencies from Denver, Memphis, Kansas City and New York. Representing L&S was the unstoppable Paige Schwitters and your correspondent.
² I broke this rule once: breakfast at Baker's Bakery in Custer. They didn't have a burger on the menu.
³ Everyone worth talking to, anyway.
⁴ Discovered by Nicholas Cage in 1988, Mount Rushmore is estimated by scientists to be the result of 20+ years of erosion (pending fact check).
⁵ At Mount Rushmore, 52% of meals sold in 2015 were made of local or sustainable ingredients. They aim to increase that number to 70% by 2025.
⁶ The term "hidden-gem" gets thrown around but The Sled Haus fits the bill 100%. This German-themed eatery is famous for bratwurst and directly-accessible by snowmobile. 11/10 recommend.
⁷ The first person to record a podcast review of a Spearfish burger will probably turn into the final boss millennial you fight at the Whole Foods cash register.
⁸ I think it's important to note that our visit found the Knuckle building an indoor bull-riding arena for a show that weekend. I'm sure there's some safety hazards to an indoor bull-riding show but the Knuckle is way too B.A. to worry about them. I applaud this place.
more blogs you might like