L&S Unscripted: Travis Adney
By Travis Adney & Joey Nielsen
Here at L&S, we tend to go a mile a minute. But every now and then, we slow our roll, sit back and have a chat. In this edition of L&S Unscripted, we sit down with Director of Technology & Operations Travis Adney. One of our tech gurus—and an all-around likeable guy—Travis talks about everything from music to kangaroos to old-man volleyball leagues. Enjoy.
YOU GET TO WEAR A LOT OF HATS AT L&S. IS IT OVERWHELMING?
One thing that's been crazy ever since starting at L&S—and I always tell people this: I've done a lot of things fast in my life, but I've never done a ton of things fast at the same time. That's one of the first things you learn here, either the easy way or the hard way. But that's part of the beauty of it. In one hour I might have my hands on seven or eight different clients, projects or otherwise. You get to the end of the day and you've got 50 different tabs open on your browser, and they're all for different stuff.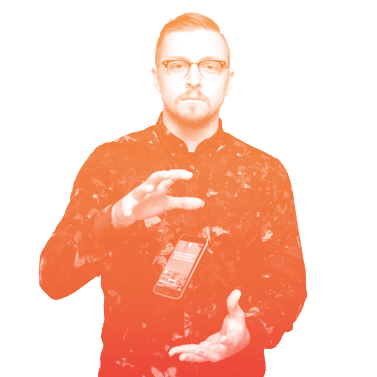 WHAT GETS YOU THROUGH THE MID-DAY SLUMP?
Oh, several things! Here is a medium-sized list of things I did last week to avoid the lumpiness:
WHAT IS YOUR DREAM PET?
Don't tell PETA… but I really want to own a kangaroo. Those things are so dang cute. Bouncin' around the house, sittin' on their tail – it's fantastic. Think of the possibilities! You could watch Netflix and put snacks in its pouch. You could carry all your essentials in there – chapstick, a 20-dollar bill, business cards, charging cords, on and on!
IF YOU COULD SING ON SONG ON AMERICAN IDOL, WHAT WOULD IT BE?
"Word to your mother."
WHAT IS THE BEST CONCERT EXPERIENCE YOU'VE EVER HAD?
Hands down it was a Twenty One Pilots show that I went to in college. I've been to two or three since that time, but nothing beats the original experience. They used to play at small little venues and did so much with the crowd. They were playing their Vessel album songs back then and it was pure nostalgia. With a band of only two members, it was the most interactive/crowd-participated shows I've ever seen. At one point in the show, the drummer Josh Dun looked over at me after breaking his stick (he hits the crap out of his drums), pointed at me and tossed it into my hand, solidifying my fandom for life. Here's a little peek at what that looked like (be sure to take a peek at 2:30 and the very end):
WHAT'S SOMETHING PEOPLE MIGHT BE SURPRISED TO KNOW ABOUT YOU?
I am overly committed to old-man volleyball leagues and old-man softball leagues. Four out of five nights a week, I'm playing with 50-to-60-year-old dudes. We're poppin' Ibuprofen before games, we've got Icy Hot on deck, and we're playing softball and volleyball. It's just a helluva time. Then we all go drink beers afterward. No one is near my age, and they just think I'm Michael Jordan out here because I can jump and run. It started with one of my college roommates telling me, 'My mom needs an extra player for her volleyball league.' And you get to know the people on the other side of the net. It's been such a blast.
Also, because of my recreational sporting (and a dumb slide into 3rd base), I've had to wear shorts to work the past week because I'm missing most of the skin on my leg. Don't worry – the shorts were Scott mandated.

more blogs you might like