six healthcare marketing trends you need to know
By Joey Nielsen
Health & Wellness
06.07.19
4 Min Read
Trends can be weird (ie. dad shoes, space vacations, cauliflower EVERYTHING) and hard to keep up with. In fact, by definition, a trend is "a general direction in which something is developing or changing." So the only sure thing about trends is that they'll change.
That's where we come in. With help from the American Marketing Association, we did some research and compiled a list of the six trends hospital and healthcare marketers need to know right now to reach new patients, drive engagement and increase retention.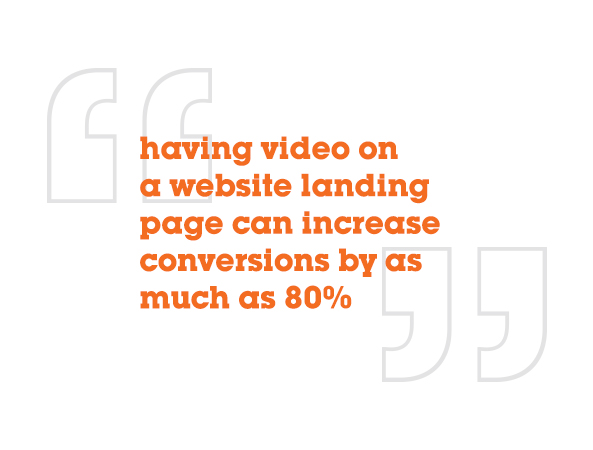 1. A VIDEO MARKETING BOOM
Video marketing is continuing to explode, and the stats back it up: having video on a website landing page can increase conversions by as much as 80%. We don't expect to see this trend changing any time soon, so you should consider using video to reach your target audience in a way that's proven to resonate with them. Fortunately, there are endless ways to incorporate video into your marketing plan. Try creating short patient testimonials on your website, engaging physician videos on social media, animated educational videos, or quick type- and graphic-driven videos to catch attention online.
2. BIG DATA IS STILL A BIG DEAL
With the era of the electronic medical record fully upon us, tons of patient data is now available to be analyzed in the hopes of finding trends healthcare providers can capitalize on. For example, data collected about website statistics, demographic information, patient prescriptions, etc. can be compiled to determine the best target audience for a specific marketing campaign and how you should approach that audience. Building data analysis into marketing plans makes them stronger and enables you to more easily meet consumer needs in a way that fosters trust.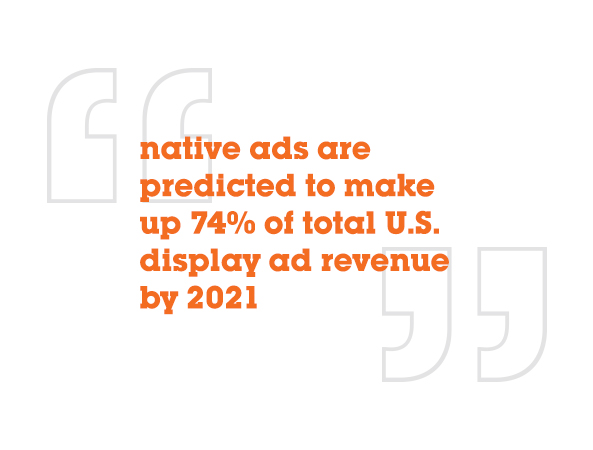 3. NATIVE ADVERTISING TAKEOVER
Native ads are predicted to make up 74% of total U.S. display ad revenue by 2021. Native advertising doesn't feel like an ad – instead, it feels like a piece of online editorial content (think an article or news piece), allowing marketers to attract more attention from consumers than more traditional ad formats like banners or pop-ups. To capitalize on this trend, create sponsored content that includes information relevant to your target audience and what they're searching for. At L&S, we target audiences behaviorally, by interest, by look-alikes and more to ensure we're matching users with native units they'll actually be interested in.
4. CONTENT MARKETING = CONNECTIONS
On the heels of native advertising, marketing that contains the in-depth health information consumers are looking for is continuing to grow. Content marketing is a natural fit for hospitals and healthcare providers. It allows you to create useful, engaging information to drive patient interaction. Through content marketing, you can create blogs, email, videos, social media content and more to strategically push out through a variety of online channels.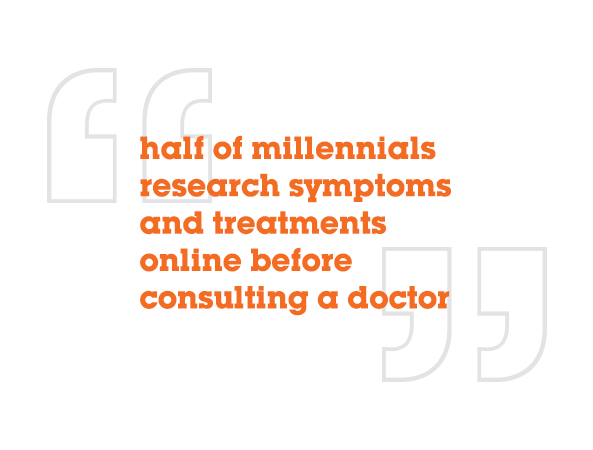 5. A FOCUS ON MILLENNIALS
As millennials age and build families, they'll need more healthcare services. And because they represent a diverse population that is savvy and connected, they expect healthcare experiences that are personalized, tech-driven and convenient. Marketers should focus more on holistic health, as well as providing in-depth information millennials often seek on the internet. Half of millennials research symptoms and treatments online before consulting a doctor. This is your opportunity to reach them.
Like what you're reading? Get more ways to drive ROI with our monthly insights emails. 
6. IMPROVED WEBSITE SEO
Because the internet is oversaturated with healthcare information from a variety of sources, hospitals and health systems should continue to work to improve their search engine rankings, focusing specifically on appearing in local listings. Use mobile-first site design, long-tail keywords within content and a conversational tone to increase your chance of being found in a voice search. When consumers ask questions such as "why does my throat hurt?", "where can I go for care?" and "when does the clinic close?", they expect answers that are easy to find and to the point. The more information you can provide in a format that's search-friendly, the more consumers you'll connect with.
At L&S, we're constantly keeping an eye on these shifting trends, finding ways to implement them to drive engagement and increase ROI. Sound like something you want help with? Contact us today.
more blogs you might like