Every year the American Institute of Graphic Arts holds a design conference that facilitates conversations between speakers and designers from all walks of life. This year, the AIGA Conference was held virtually, which allowed our design peeps to attend any and all speakers they were drawn to. With a theme of "A Brief History of Now," our very own Taylor Hilmoe just couldn't resist listening to at least a few of the industry's greatest.
CURITORIAL TOUR OF THE PUSH PIN LEGACY | ANGELINA LIPPERT
Kyle Determan: Taylor, this is the first session you went to. What was the topic?
Taylor Hilmoe: Learning the history of Push Pin Studios and their impact on the resurgence and evolution of American Commercial illustrations.
KD: Weren't they the ones who did The Nose? Why were you drawn to this particular session?
TH: Illustration is one of my favorite parts of graphic design. This was definitely one of my favorite sessions of the entire conference. I loved getting a chance to learn about the history of Push Pin Studios and how they were able to redefine design and illustration. Whether it's the promotional mailers of their Broadway poster designs, everything they produce is worth looking at.
GENERAL SESSION | MARA SOLER + DANIELA VILLANUEVA
KD: I was looking on the schedule and there were a handful of "General Sessions." Did they have a theme or was each session its own thing?
TH: These sessions each had a group of speakers that spoke about either their projects, their mediums or specific processes.
KD: Was there a specific part of this one that stood out to you?
TH: Mara Soler and Daniela Villanueva spoke about their company, Flaminguettes.
KD: Gotta love girl power… what did they talk about?
TH: They talked about what it's like being a girl-girl creative duo. Originating out of Mexico City, they explore live action, installation, design and animation to create vibrant pieces with bold splashes of color.
KD: What about their session stuck with you?
TH: It was just so interesting to watch. The way they add elements of studio arts to create an ad that looks like a work of art that you might find in a museum is incredible. It was a really great reminder that as designers, we should never be afraid to think outside of the box for our projects.
KD: Well said, friend – a great reminder for all of our fellow creatives for sure.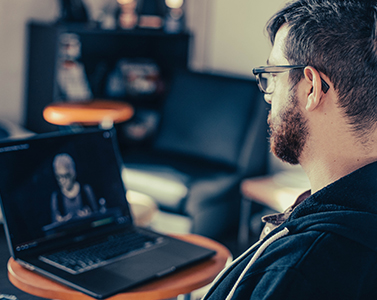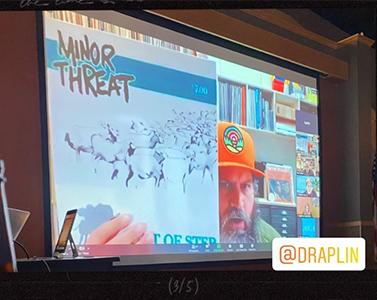 DRINKS WITH DESIGNERS | AARON DRAPLIN
KD: Okay, last but not least, Drinks with Designers. This already sounds like something I would be in to. Was there a topic beyond (virtually) clinking glasses with the best in the biz?
TH: Haha, no, not really. It was set up like a Q&A and was pretty informal, which was really nice.
KD: I noticed that this was another type of session they held multiple times. Why view this one?
TH: This was definitely one of the sessions I was most looking forward to. Aaron Draplin is by far my favorite designer. Getting the opportunity to ask him questions was such a great experience and we got to ask him about various parts of his job, his hobbies and even his extensive record collection.
KD: We always love being able to humanize someone we've idolized for so long.
TH: For sure. I feel like I got to connect with my favorite designer on a more personal level, even though it was over Zoom.
Well, there you have it folks. Taylor talked music with his fav designer, I learned what live action design was, and hopefully everyone got a sneak peek into the world of the AIGA Design Conference and all it has to offer.
Happy designing!
more blogs you might like