6 Tips to Write an Effective Social Media Ad
By Guest Blogger, Jessica Fender
Whether you're promoting yourself as a blogger, an influencer or a large company with retail stores worldwide, social media ads are very useful. Given that 53.6% of the world's population uses social media an average of 2 hours a day, the market is certainly out there. As of July 2021, 99% of social media users accessed their preferred platforms through smartphones, meaning that they're used to consuming content on the go.
By pursuing social media ad copywriting for platforms like Facebook, Twitter, Instagram and TikTok, your brand will attract new clients and re-engage existing leads easily. What goes into writing effective social media copy? What are the benefits of marketing on social media and why should you invest resources into the effort in 2021 and beyond?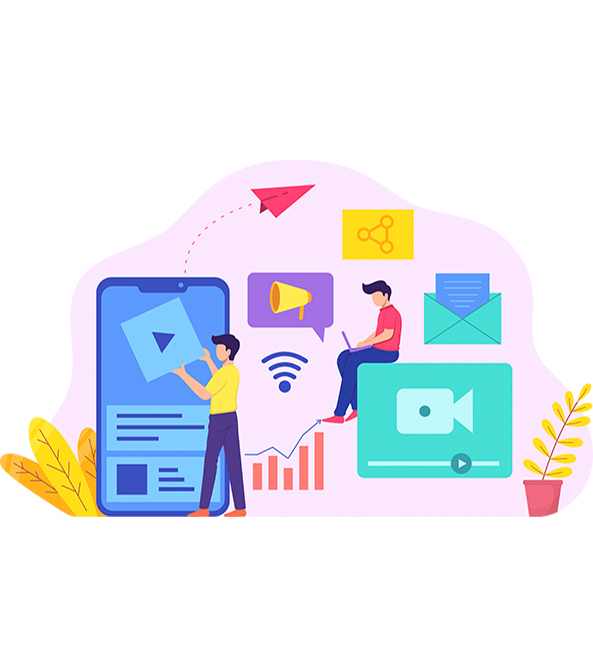 REASONS TO PURSUE SOCIAL MEDIA AD COPYWRITING
There is a plethora of valid reasons to use social media as your marketing platform for the foreseeable future. As we've mentioned previously, more and more people use social media to stay in touch with friends and relatives.
Moreover, platforms like LinkedIn have become hubs for corporate networking, allowing marketers to place their products front and center via paid ads or blog posts. By marketing your brand on several social media platforms simultaneously, you will reach worldwide recognition and attract relevant leads more quickly. Here are some additional reasons why it's worth it to start writing better social media ad copy moving forward:
Relate your brand to quality, creative ads
Engage social media users directly to gain customer insight
Access individual social media platforms' analytics for market analysis
Increase traffic to your website by redirecting social media users
Improve your brand's SEO by using the right industry keywords
Brand storytelling, employee showcasing and user-generated content opportunities
SOCIAL MEDIA AD COPY WRITING TIPS
1. Focus on Short Ads
Social media users are unlikely to stop scrolling their feeds long enough to read long-form content. Instead of trying to convert leads through short essays on social media, focus your attention on 1-2 sentence ads. Say as much as you can in as few words as possible.
Typically, social media copy is focused heavily on calls to action due to those reasons. Meaning, your first sentence should shortly describe what you are selling, while the second should be a call to action. Use this ad copy format to write punchy, attractive ads rather than longer ones that will be read by a small minority.
2. Simplify your Phrasing as Much as Possible
Your ad copy should be as simple to understand and appeal to as many potential leads as possible. While you may be inclined to rely on inside jokes, catchphrases or famous quotes, try to avoid this line of thinking. Simplify your lingo and vocabulary as much as you can without going in the other direction and coming off as simplistic.
Writing captivating ads for social media is a balancing game of saying a lot through as few words as possible and being understood by everyone. You can A/B test your ad copy by rewriting and reformatting the ads you wrote and launching them on different social media platforms. Find out which emotional and customer trigger words work best for your target audience and stick to them going forward.
3. Use Numeric Data to your Advantage
Numbers are quick and easy to read and as such, they serve as great attention-grabbers in social media ad copywriting. Go through your performance metrics and see if you can find relevant data which would increase customers' interest in your products.
Whether it's "1 million+ units sold" or "20+ years of professional experience", people love seeing numeric data. Even going for a "100% satisfaction guarantee" line in your ad copy will still improve your ad's appeal considerably.
4. Don't Get Caught Misspelling your Ad Copy – Proofread It
You want to appear as professional as possible to people who are unfamiliar with your brand or services. To do that, your ad copy should be pristine and free of grammar errors or mispronunciations.
You can go about proofreading your ads in several ways, including working with a writing company or reading through your ads personally. You can hire writer help through GetGoodGrade if you need someone to write your ad copy or blog content when you are short on time. Remember that performing a grammar check before publishing your ads on social media is extremely important for making good impressions on cold leads.
5. Consider Localizing your Ad Copy for Different Audiences
In case you are pursuing international customer interest, going with English-only ads might not be a good idea. People from different parts of the world prefer seeing ads in their language when they scroll social media. Large corporations such as Netflix and Sony are good examples of localizing ad copy even though physical offices or stores may not exist there.
When presented with a foreign ad, they'll ignore it at best and report it as irrelevant at worst. You can avoid this by translating and localizing your social media ad copy before it goes live. Choose the countries you'll advertise in and retrofit your content to fit the expectations of that particular customer base.
6. Catchy Visuals are Important for Captivating Social Media Users
While a solid copy may intrigue social media users to check out your website or storefront, killer visual ads will capture their attention while scrolling. People's social media feeds are riddled with various types of content, including written status updates, images, videos and external links.
You can stop people in their tracks with creative photos, professional vector art or even animated ads which will help sell your brand. Pairing writing with visuals is very important in social media marketing, especially on Instagram and TikTok which rely more on visuals than they do on written content.
WRITING EFFECTIVE SOCIAL MEDIA AD COPY
Whether you already have a social media marketing strategy in place or are in the process of outlining one, do consider writing ad copy content. Short, engaging ads with calls to action and catchy visuals will always work better than long-form status updates or long videos.
Explore what your audience's content expectations are and see if you can meet them halfway. With some practice, you'll be able to write more effective social media ad copy, which will pay off in spades for your brand.
Author's bio: Jessica Fender is a copywriter and blogger at Writeload with a background in marketing and sales. She enjoys sharing her experience with like-minded professionals who aim to provide customers with high-quality services.
more blogs you might like