creating equitable care everywhere
Sanford Health
Sanford Health has always been visionary, from creating world clinics to launching global awards. In 2022, that vision shifted a little closer to home. Along with improving the human condition, Sanford refocused on improving rural health, giving everyone access to world class care no matter where they live. From underserved populations to communities of all sizes, Sanford would be known as a leader in equitable care.
Awards
Minnesota Health Strategy & Communications Network Awards - 2nd Place, Best in Communications.
Healthcare Advertising Awards - Gold, Integrated Marketing Campaign
Everyone deserves access to world health care, no matter where they live.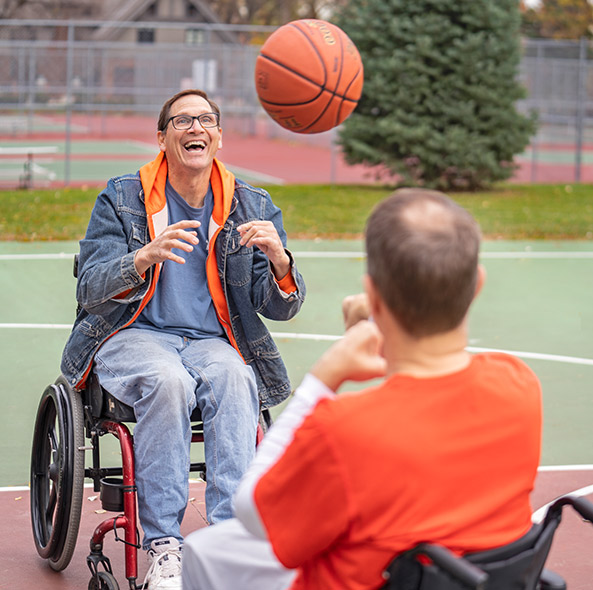 To bring this vision to life, Sanford partnered with L&S, starting with research. We spoke to patients around the footprint through focus groups, asking about their perceptions of rural health care. They told us they're often overlooked – but even more often, that rural markets can be generalized or stereotyped when their needs are actually quite diverse. They wanted quality care, but they also wanted representation and to be part of the greater good.
Knowing this along with Sanford's presence in larger cities, our team needed to help rural communities feel seen while also uplifting diverse needs in urban markets. No matter who, no matter where – Sanford is an inclusive partner dedicated to health for all.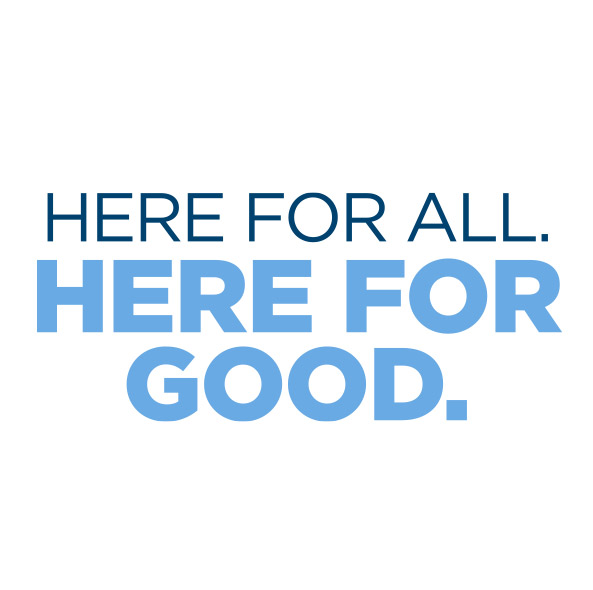 a mission for all—for good.
With a solid foundation of research, the new positioning line nearly wrote itself. "Here for All, Here for Good" encapsulates the system's mission, illustrating how Sanford is here for every community, every patient and every moment. It also speaks to Sanford's dedication to development and philanthropy, going beyond patient care to create good and enrich communities.
"Here for All, Here for Good" is about people, community and the common good. So real people needed to be the pulse and personality of the campaign. With a few talented partners and a lot of coffee, we captured authentic, lifestyle photos highlighting diversity across our markets in age, ethnicity, ability and more.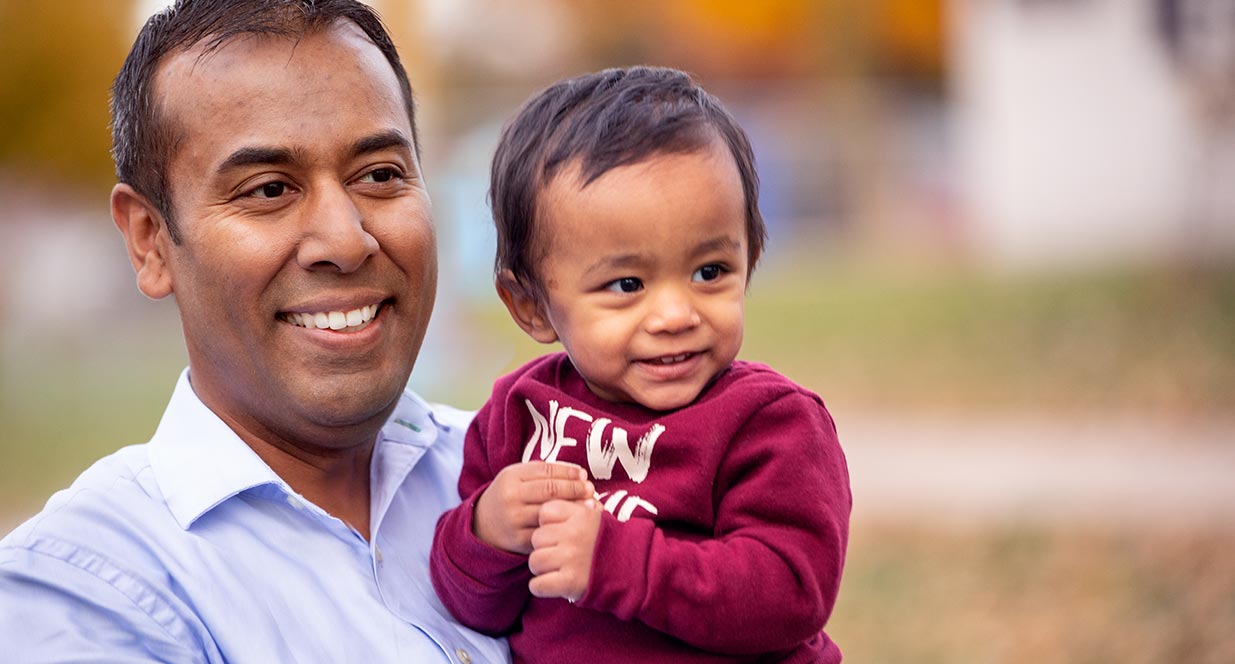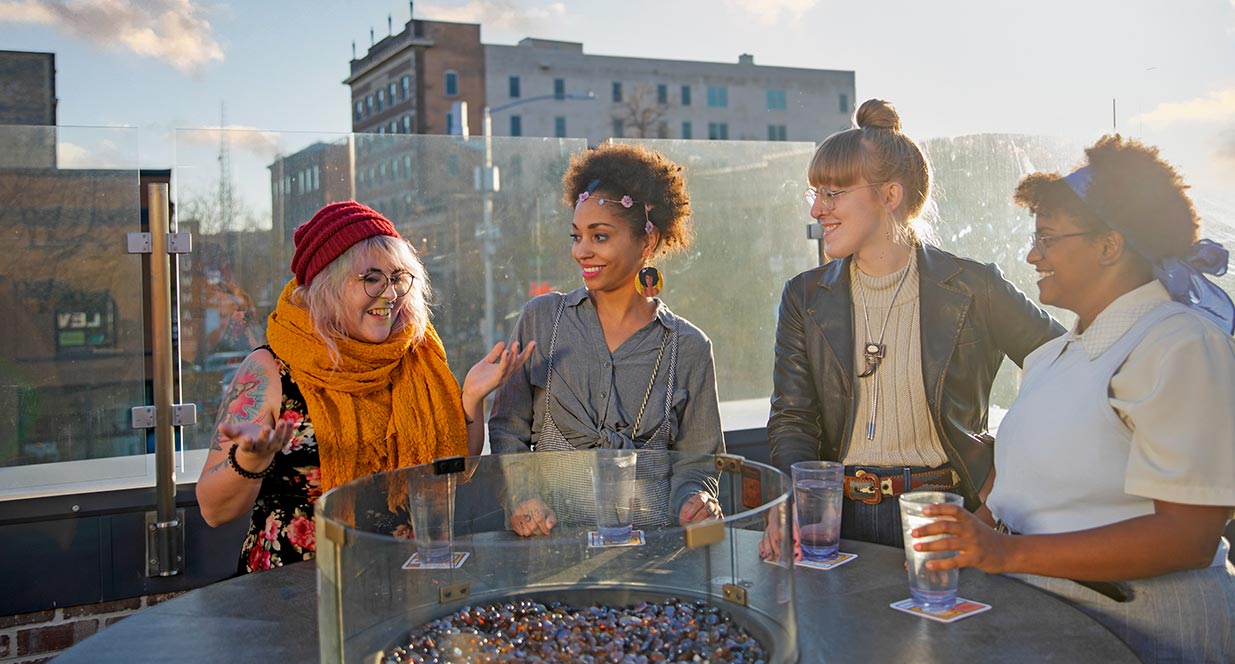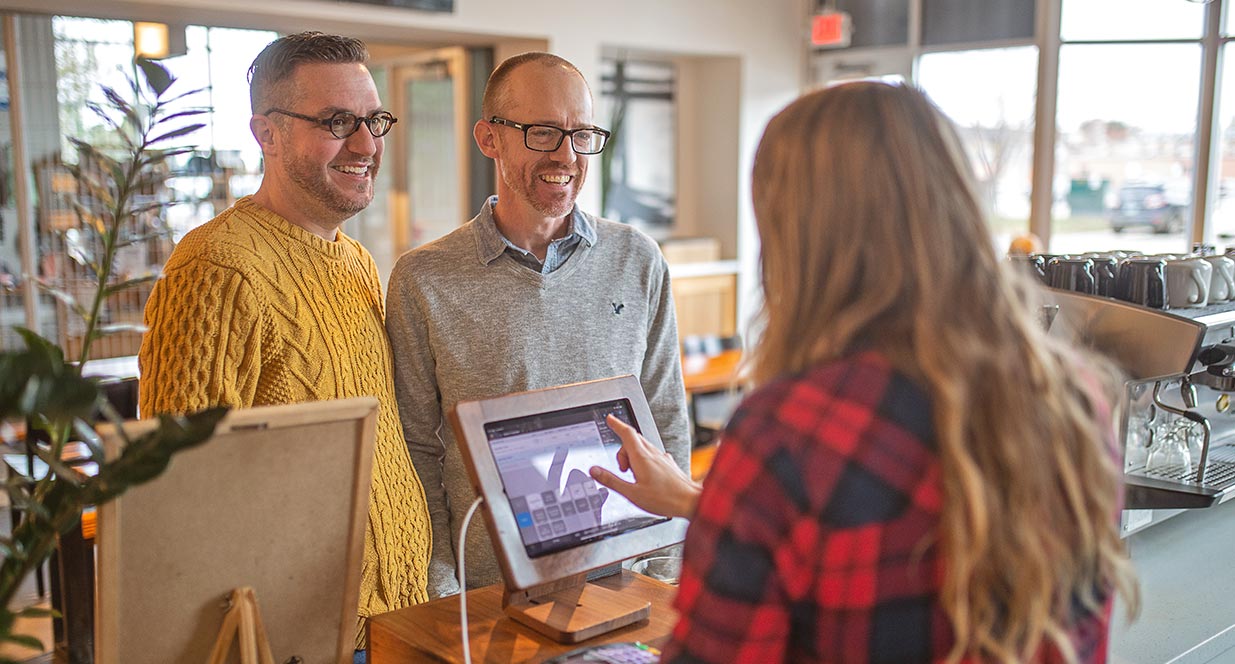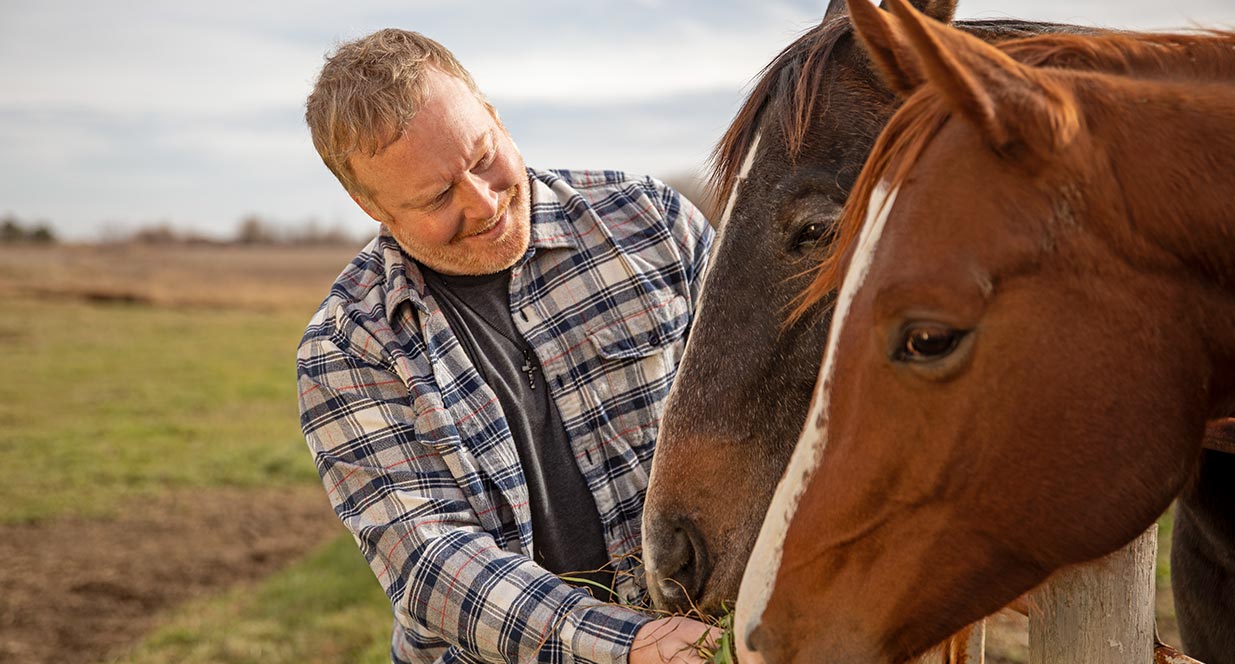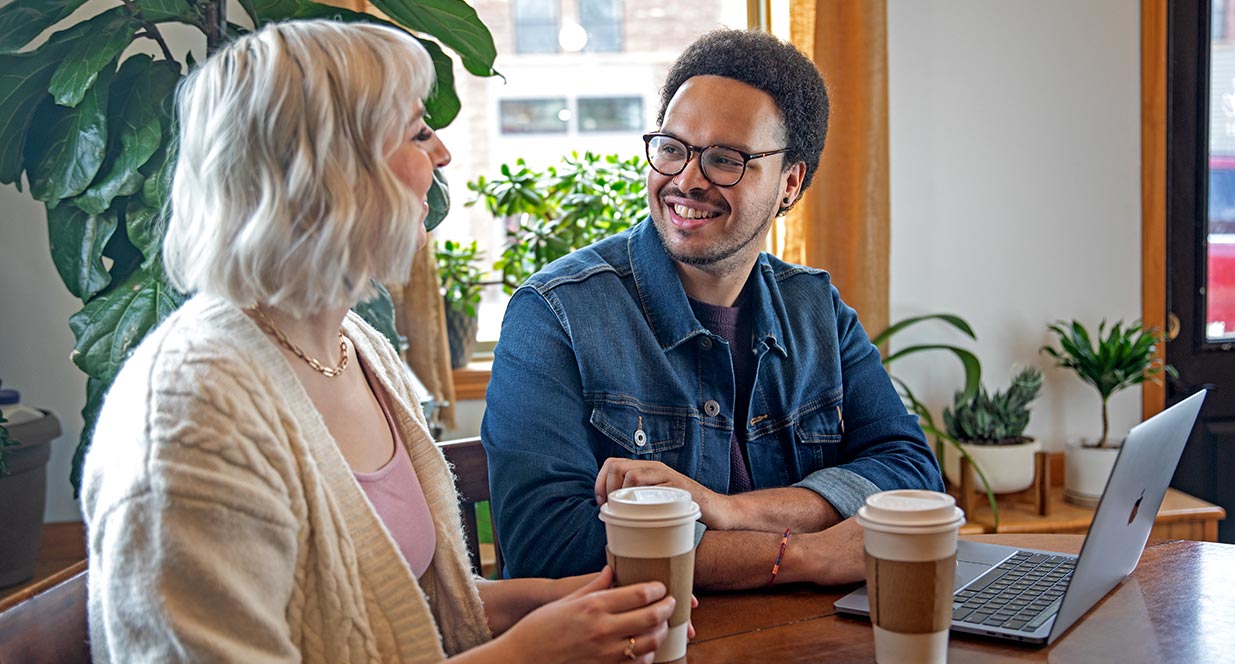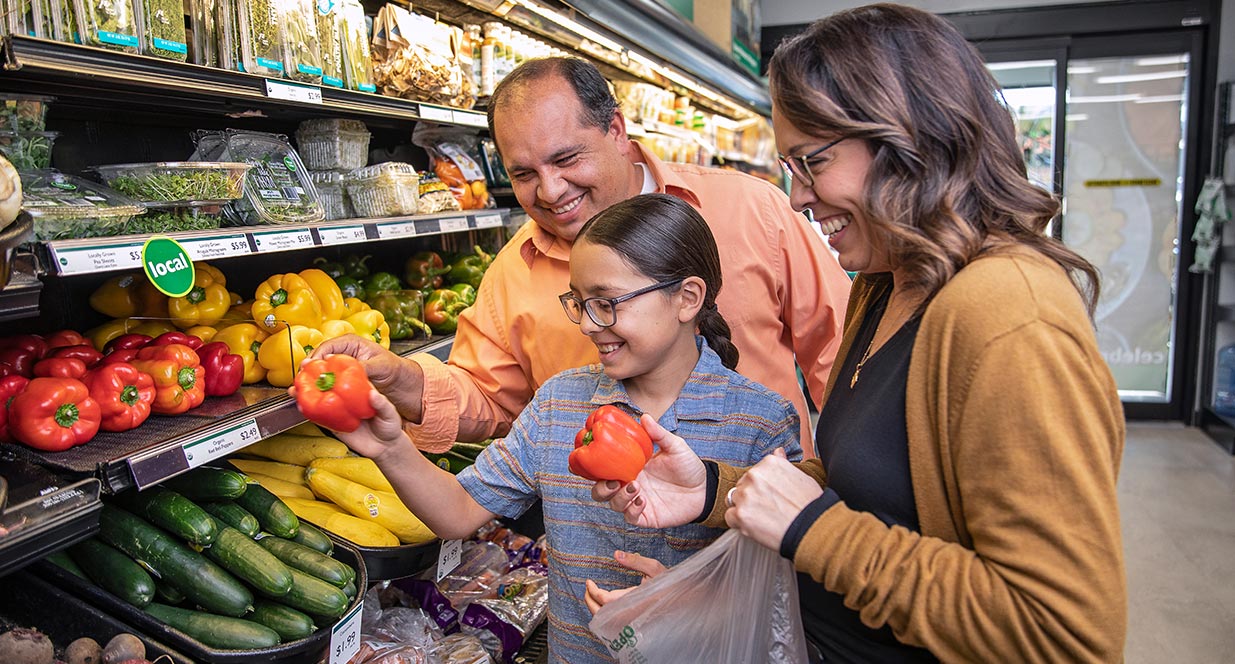 To brand the portraits and tie them to our mission, each patient is framed with Sanford's iconic Lorraine Cross logo, showing a focus on people, no matter where they are.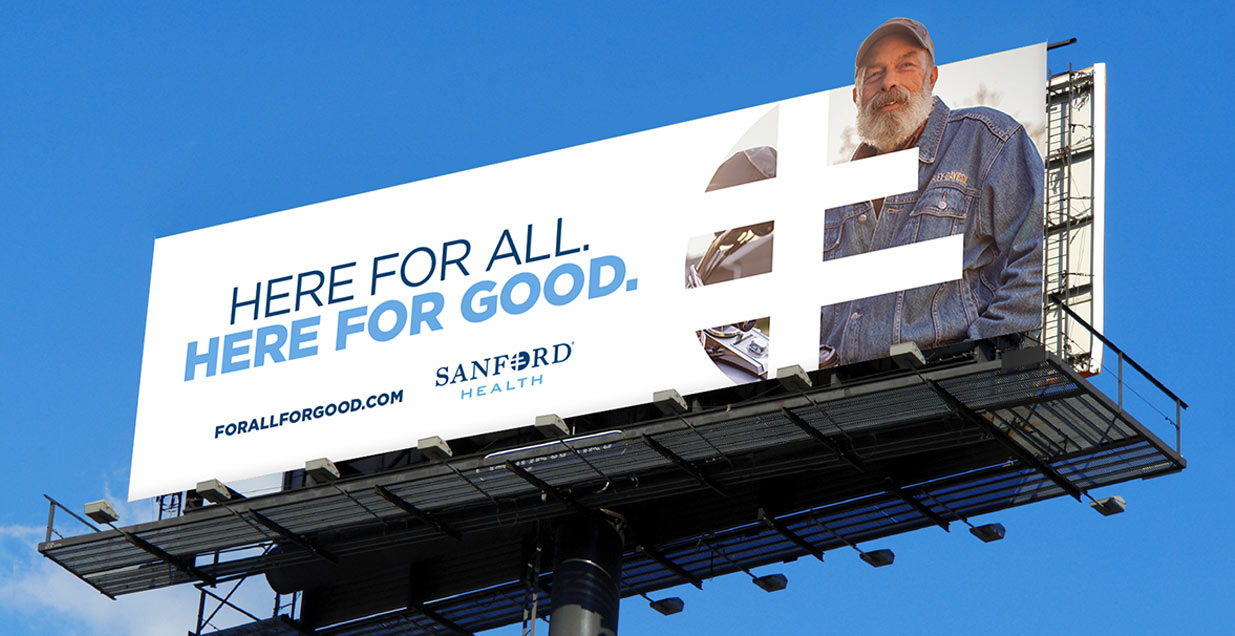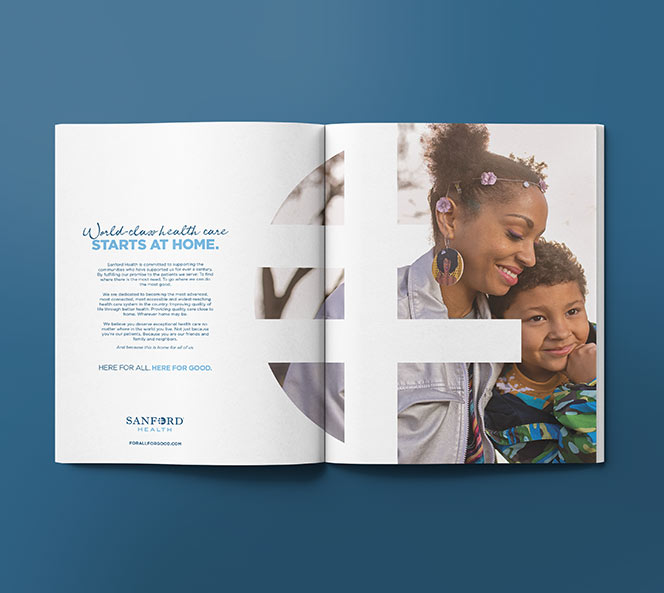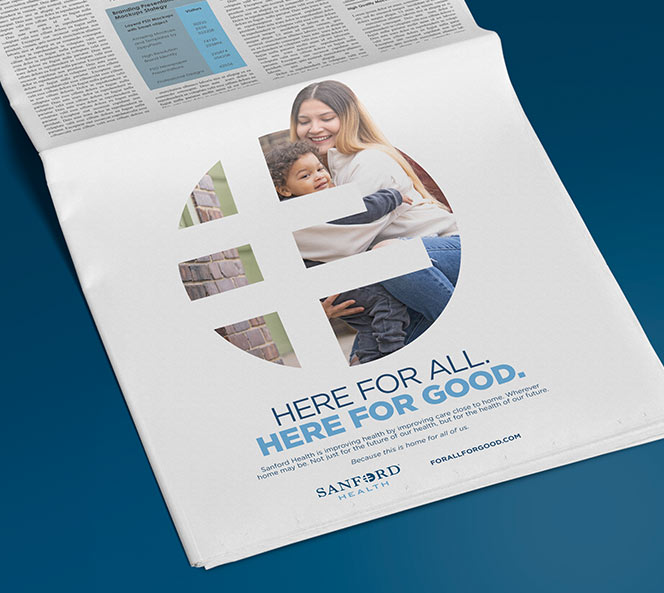 The campaign rollout included a multi-state media buy, including video that embraced every Sanford community from Alexandria to Viborg. Each community also received items like door clings to show a personalized presence from market to market.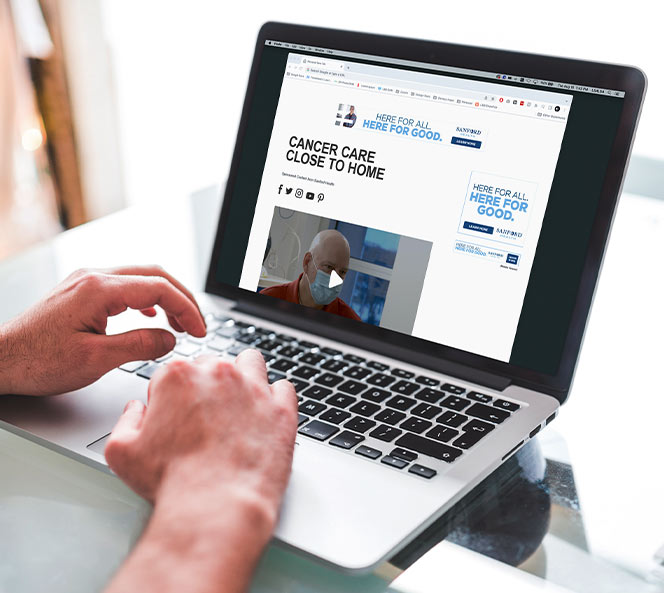 Digital extensions supported our media strategy with social, display and an elevated microsite featuring stories of good.
We also showed how Sanford was walking the walk of rural health care through native content. Each article featured initiatives in rural markets, examples of personalized care and groundbreaking innovations like the system's new virtual hospital.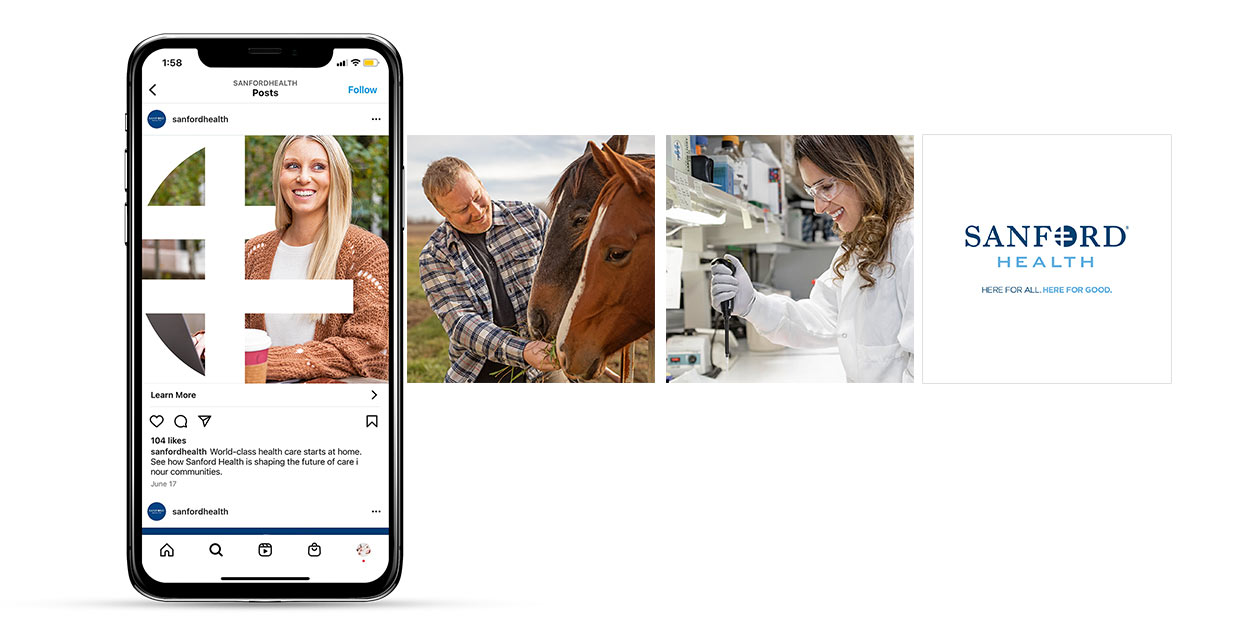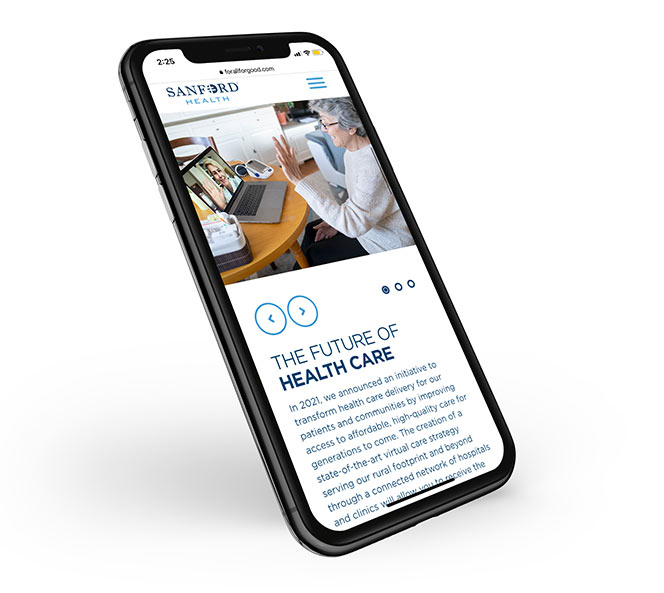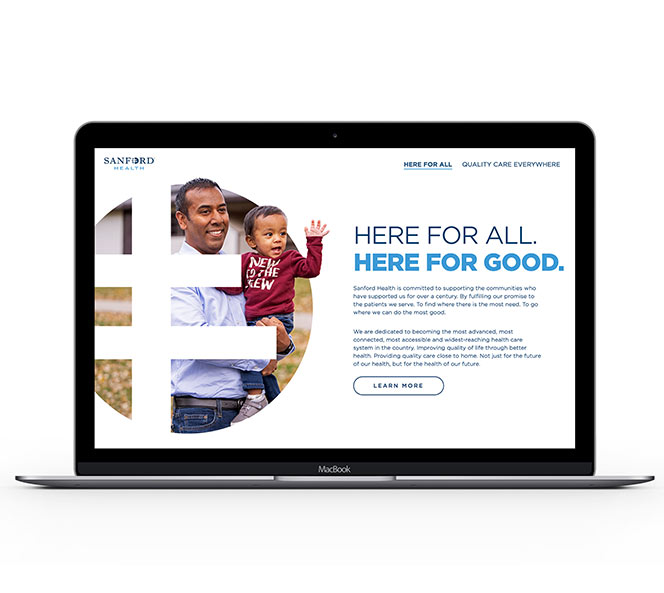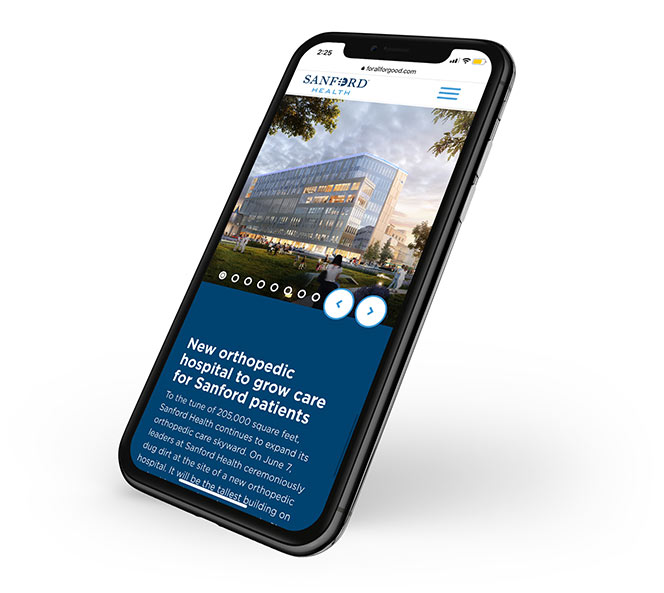 Not only is the campaign inclusive, but the process of developing it was, too. L&S worked hand-in-hand with Sanford's internal marketing department to ensure the campaign could be executed seamlessly from our team to theirs. Through collaboration and partnership, the Sanford team launched branded swag, internal messaging and a "Blue Chair" video series featuring patient and employee stories.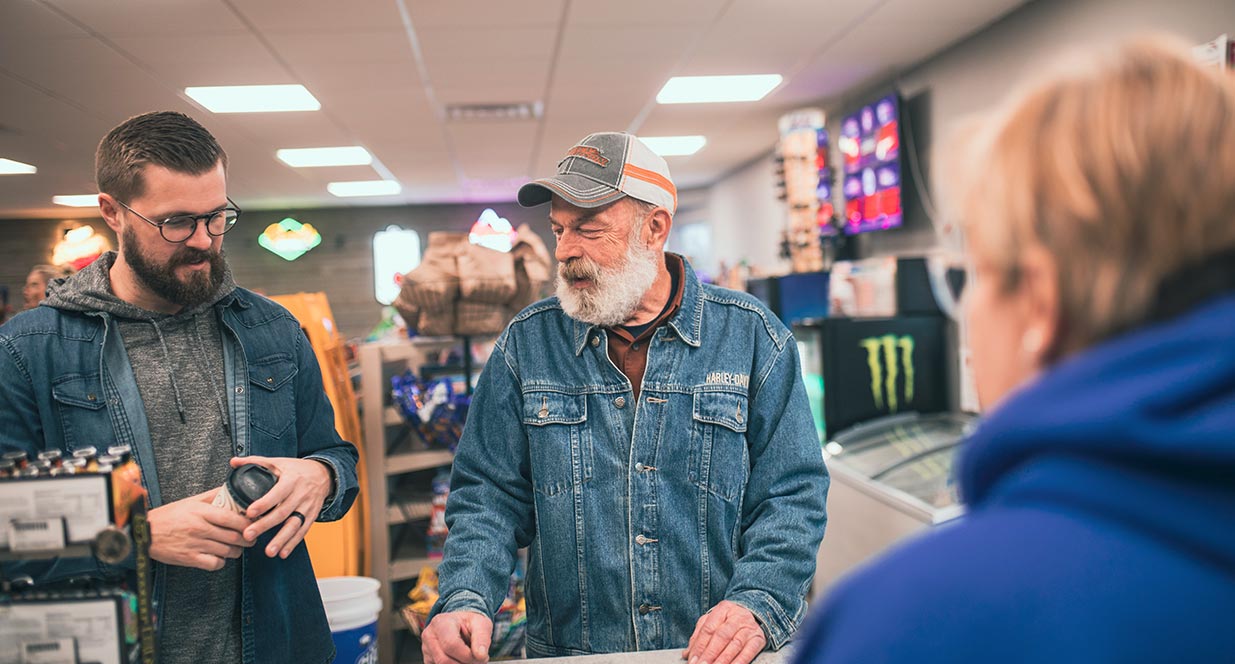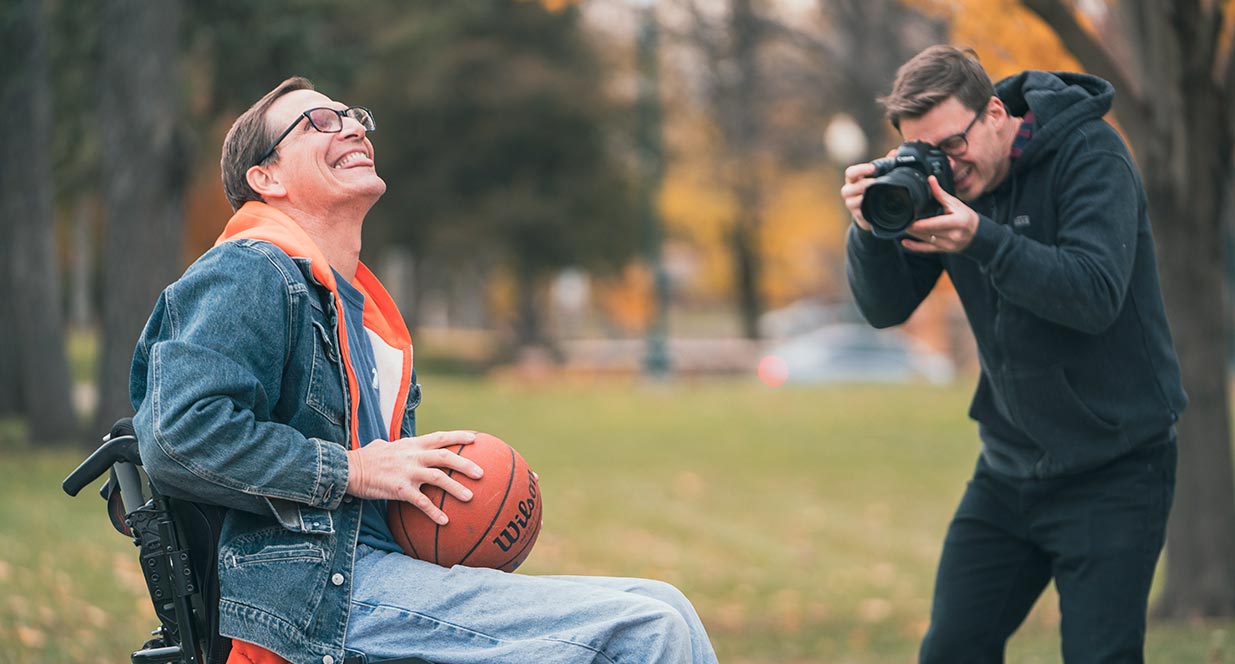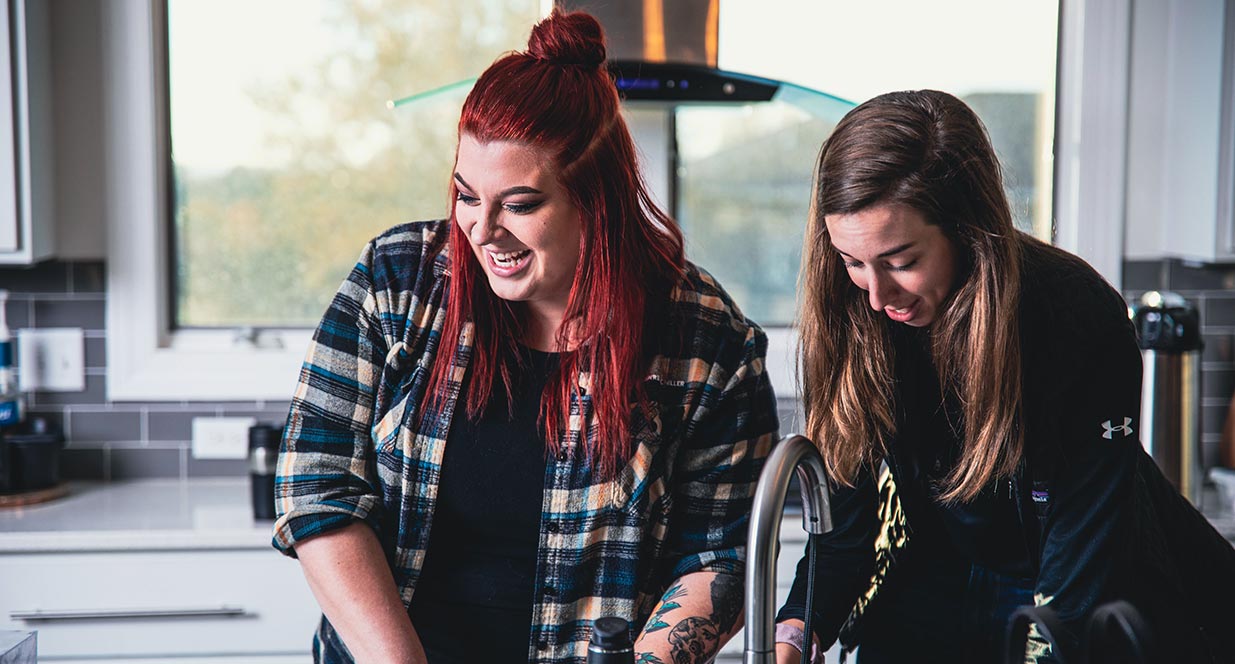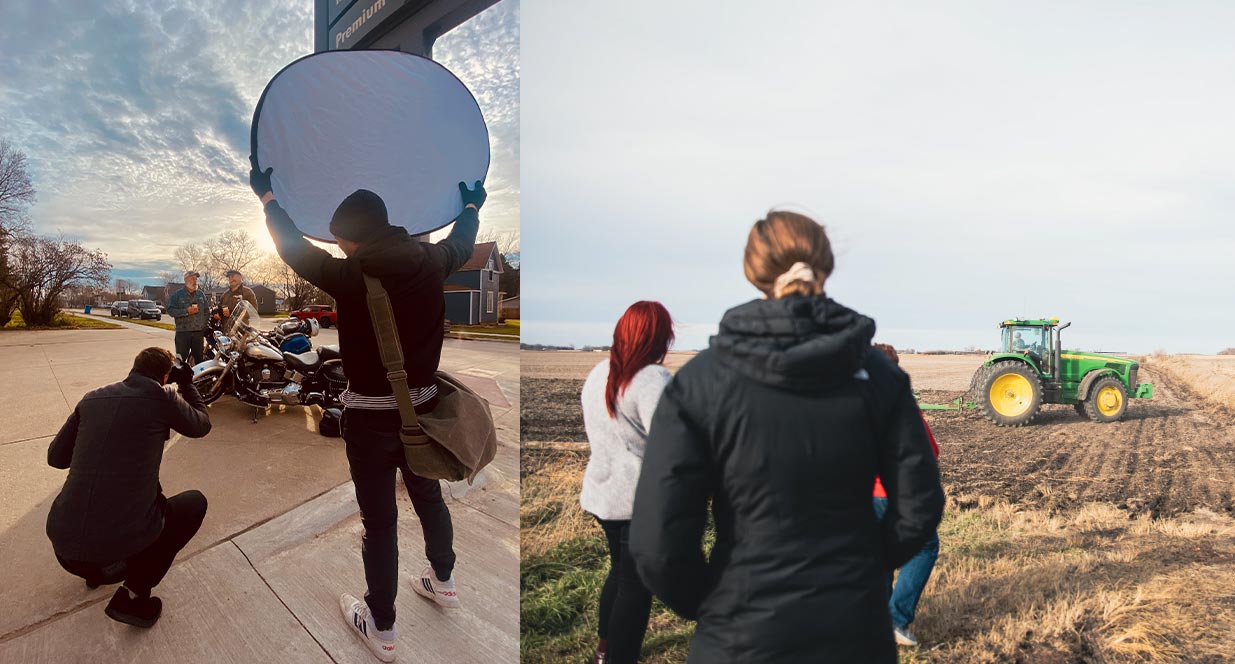 "Here for All, Here for Good" has extended far beyond bridging rural and urban care. It's helped Sanford highlight their philosophy of inclusivity, embracing the LGBTQ+ community, celebrating people of color and welcoming patients from all walks of life.
The campaign helped Sanford create an environment of inclusivity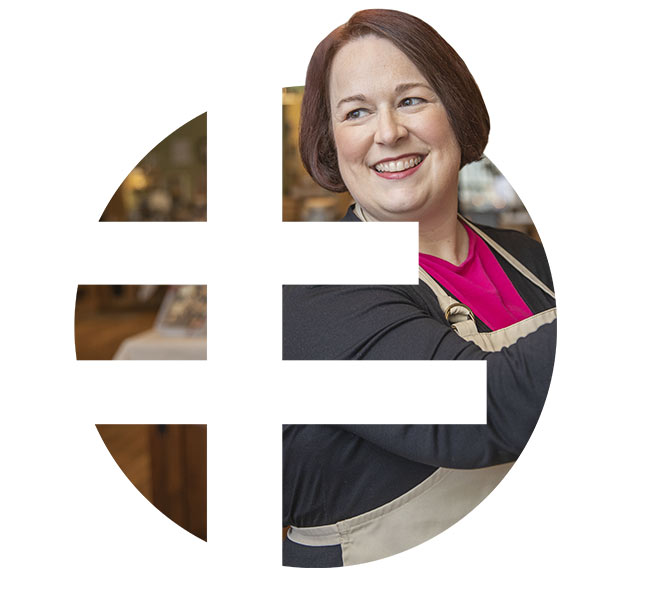 For the public, the campaign has shown where Sanford's focus and heart lies – with patients, no matter where they are. And for the Sanford team, it's created a swell of pride in their mission to be a force of good in the Midwest and beyond.