L&S Takes Home 9 W3 Awards in 2020
Health & Wellness
10.29.20
5 Min Read
Heads up— we are really proud of the information in this article.
In digital marketing, the W3 Awards are kind of a big deal. They commemorate digital marketing brilliance in everything from websites, video, mobile sites and apps to social media and podcasts. Dissimilar to other advertising awards, the W3 Awards aren't exclusive to international agencies and Fortune 500 companies. This competition is the first of its kind and is accessible to large agencies, small firms and everyone in between. Quality content deserves to be seen, and the W3 Awards make that happen.
Recently, L&S earned nine W3 Awards. The awards are categorized as Best in Show, Gold and Silver. L&S took home five Gold and four Silver. Check out the winners below and see what our team had to say about each project.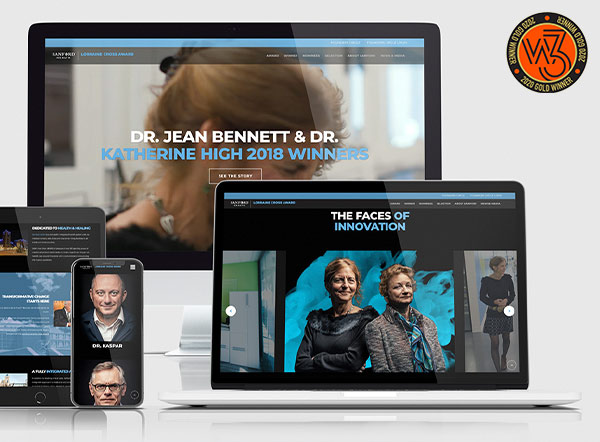 General Websites-Non-Profit
The Sanford Lorraine Cross project was fun because of the amazing stories we were fortunate enough to tell. What made the project special was the dynamic and impactful imagery that we used to highlight each nominee. This website opened up doors for our digital and creative teams to create a new voice for Sanford and take the brand to another level.
– Roberta Forman, Art Director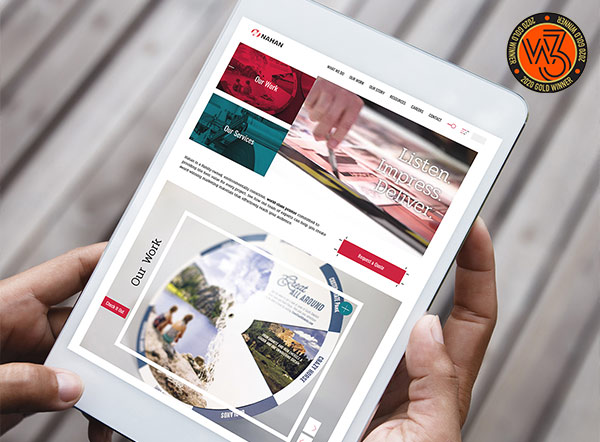 General Websites-Professional Services
The role reversal of our long-time-partner-turned-client made for a unique, rewarding experience. We worked together as a team, and in the process, gained a full understanding of everything they stand for. It was fun to bring their values to life with a new, sleek website that highlights their customer-first approach.
– Mariah Larson, Digital Specialist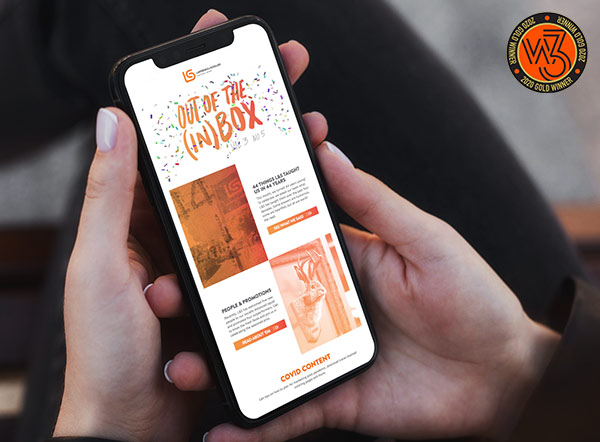 General Marketing-Email Marketing
The objective of our Out of the (In)box emails is to showcase relevant information to our readers and tie whatever we can to what's happening in the advertising world. We feature projects and case studies, research and new trends…really anything that will bring value to our audience. Our anniversary email was a time for us to tout our employees and work a little more than usual, all while adding some fun with some GIFs and animations.
–Katelyn Short, Senior Designer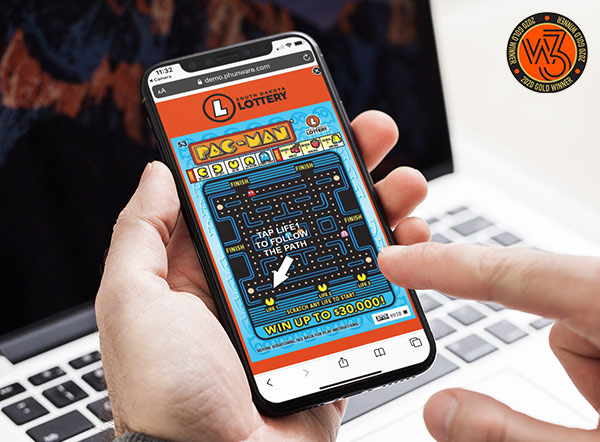 General Marketing-Banner, Display & Rich Media Advertising
The Pac-Man mobile piece was a rich media promotion that ran for the reintroduction of the Lottery's Pac-Man scratch game. It was one of the first rich media efforts we did with the South Dakota Lottery, and it was a lot of fun to produce. We saw consistent daily engagements with the unit, and most users played the game all the way through Life 3. As far as performance comparisons, typical benchmarks for 2nd and 3rd engagements on similar ad units were 20%-30%. The Pac-Man was over 60%!
– Scott Wiechmann, Senior Creative Director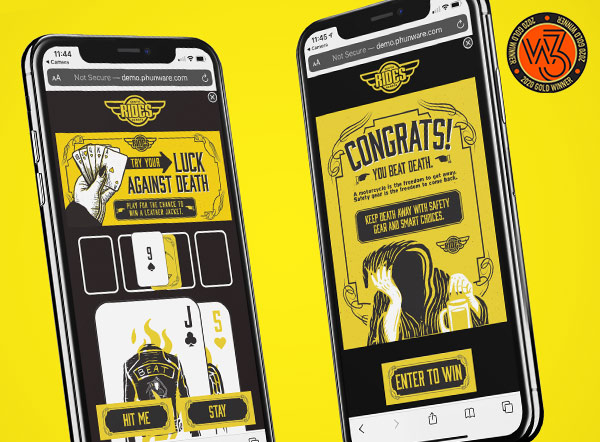 (General Marketing-Mobile Advertising)
Client insight and industry knowledge was the basis of this campaign. We took the idea of a poker run for riders, turned that into a deck of playing cards, and made a digital unit where you get to try your luck against Death. This piece was a great combination of messaging and creative and was notably fun to produce.
– Roberta Forman, Art Director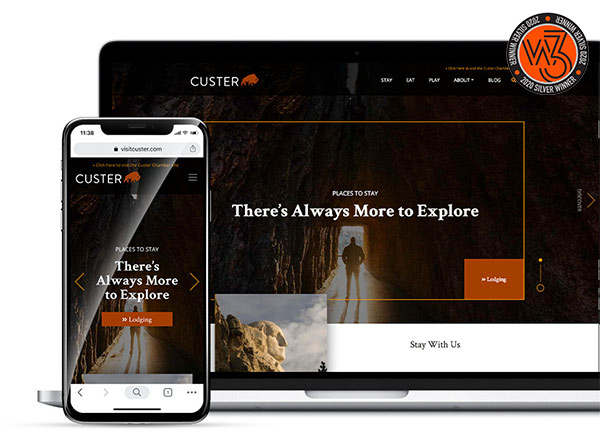 General Websites-Tourism
When Custer reached out to us about making them a new website, we could not have been more excited. As part of the website project, we were handed the reigns to design a new logo and a fresh email marketing design. It was blissful to see all of those elements come together to help potential visitors realize what a beautiful community Custer is.
–Laura Mitchell, VP of Marketing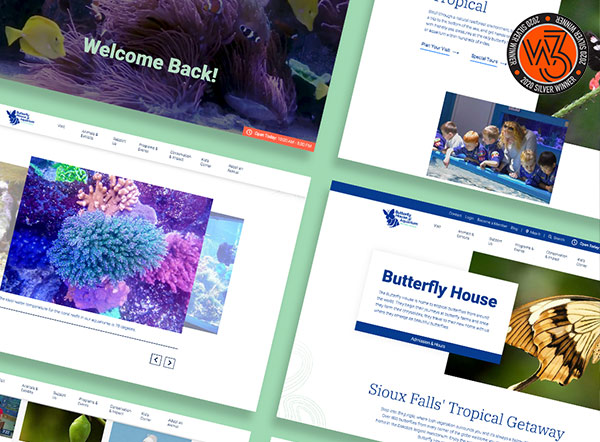 General Websites-Pets & Animals
As part of a comprehensive fundraising campaign, the Butterfly House & Aquarium utilized L&S to build out a new website. They wanted a website to tell their story but also wanted it to be easy to engage with current members and visitors that are interested in the attraction. The end product did just that. This project was fun to build because of all the beautiful exhibits that we were able to highlight on each page.
-Laura Mitchell, VP of Marketing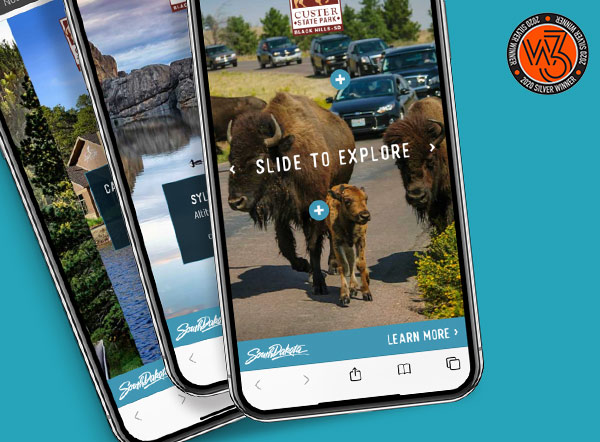 General Marketing-Banner, Display & Rich Media Advertising
This piece is a great use of rich media. It shows Custer State Park in all its glory, with a herd of buffalo running across the screen. The spread is attention-getting and plays up one of the park's biggest features — the herd of buffalo that visitors encounter in the middle of the park. This graphic gives viewers a glimpse of what to expect and creates a sense of excitement.
– Kristy Laue, VP of Creative
General Marketing-Mobile Advertising
Pierre is a hub for outdoor lovers, including hunters and fishers. To play up the world-class catches you can find in Pierre, we created a rich media unit that incorporates a fishing game. Consumers can cast their line into the water to catch a fish beneath the surface while being reminded of the outdoor wonders in Pierre.
– Kristy Laue, VP of Creative
more blogs you might like